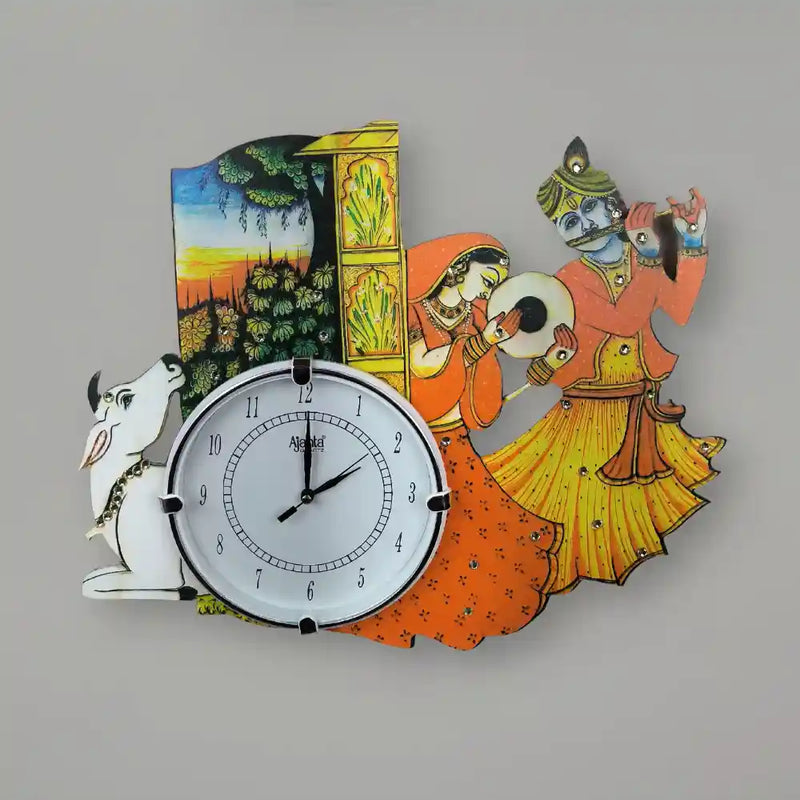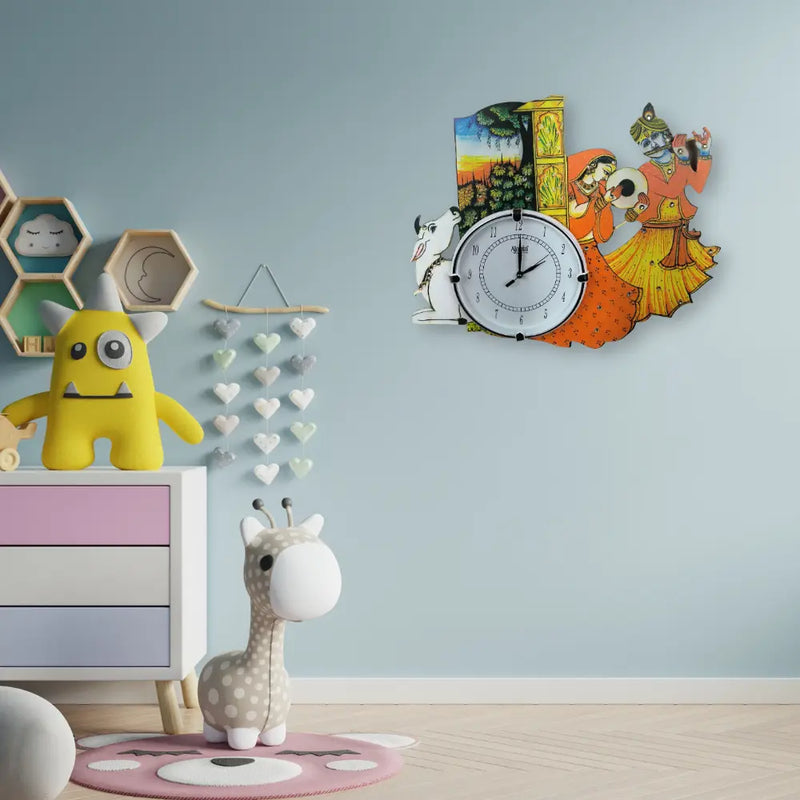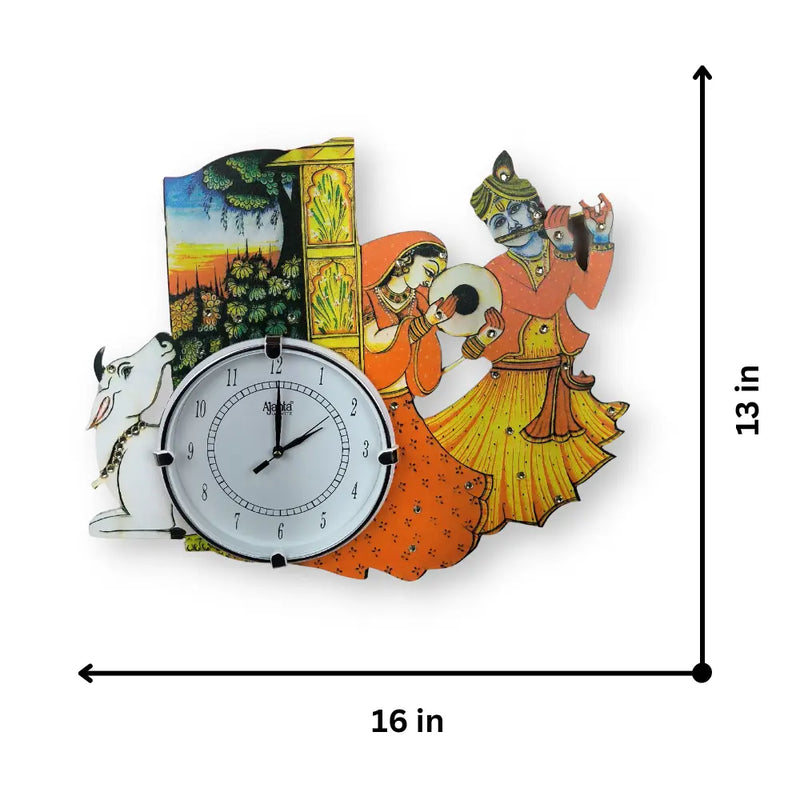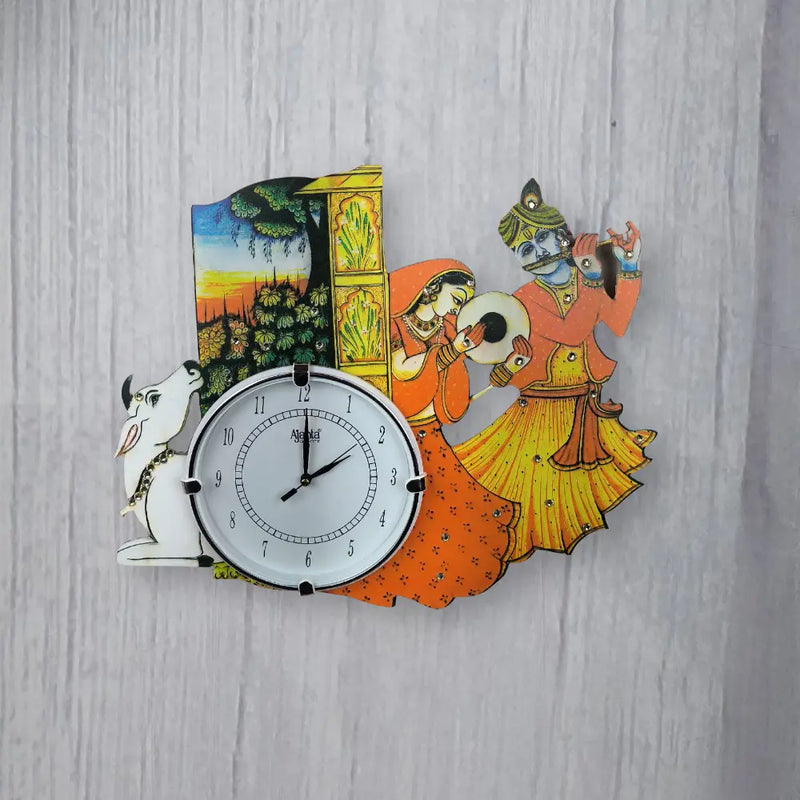 Wooden Religious Radhe Krishna Wall Clock, Handmade Radhe Krishna Wooden Wall Clock
Sale price
₹ 899.00
Regular price
₹ 1,299.00
31% OFF
Sold out
New Unique Designs, Made with High Quality MDF
Best for Living Room, Office, Home & Gifting
| | |
| --- | --- |
| Brand | Classy Artz |
| Theme | Religion |
| Color | Multicolor |
| Type | Analog |
| Style | Antique |
| Material | Wood |
| Room Type | Bedroom, Home, Living Room, Office |
| Power Source | Battery Powered |
...
Introducing the exquisite Wooden Religious Radhe Krishna Wall Clock by Classy Artz. This handcrafted masterpiece is designed to add a touch of elegance and spirituality to any space, be it your home, living room, office, or any other room in need of a divine aesthetic.
The clock features a stunning multicolored design, showcasing the vibrant hues associated with the Radhe Krishna theme. Each color is carefully chosen to bring out the essence of divinity and create a visually captivating piece of art.
Crafted from high-quality wood, this wall clock boasts exceptional durability and longevity. The use of wood not only adds a natural and rustic charm to the clock but also ensures its sturdiness and resistance to wear and tear.
With its analog display, the clock provides a classic and timeless appeal. The sweeping clock hands gracefully glide across the clock face, allowing you to keep track of time effortlessly. The clock's large and clear numerals make it easy to read from a distance, ensuring convenience and practicality.
Powered by batteries, this wall clock offers hassle-free operation. Simply insert the batteries, and the clock will keep ticking accurately, providing you with reliable timekeeping day after day.
The versatile design of the Radhe Krishna Wall Clock makes it suitable for various rooms and settings. Whether you want to enhance the ambiance of your living room, office, hall, bedroom, or even a dedicated temple space, this clock is an ideal choice. It effortlessly complements different interior styles and color schemes, blending seamlessly with both contemporary and traditional decor.
In addition to its functional and aesthetic features, this Radhe Krishna Wall Clock serves as a spiritual reminder and symbolizes devotion and tranquility. Its unique design not only adds a sense of peace and serenity to your surroundings but also creates a focal point that draws attention and sparks conversations.
When it comes to the price, the Wooden Religious Radhe Krishna Wall Clock by Classy Artz offers exceptional value for its craftsmanship, design, and durability. Its affordable price point ensures that you can embrace the beauty of this religious-themed wall clock without compromising your budget.
Enhance your living space with the timeless beauty of the Wooden Religious Radhe Krishna Wall Clock. Its exceptional craftsmanship, unique design, and affordable price make it a must-have addition to any home, office, or sacred space. Experience the blend of spirituality and elegance with this exquisite handmade wall clock.