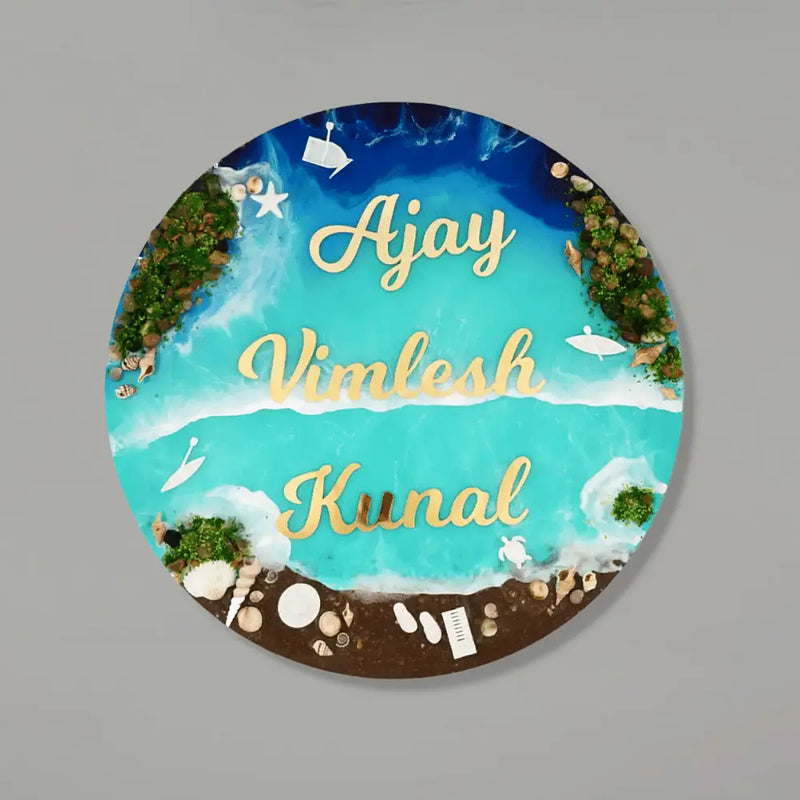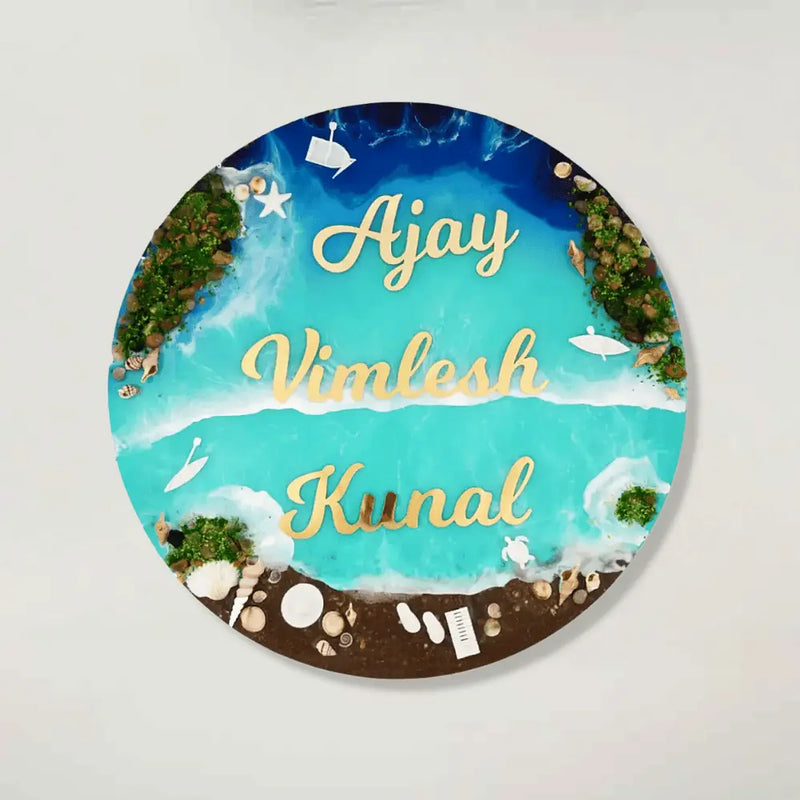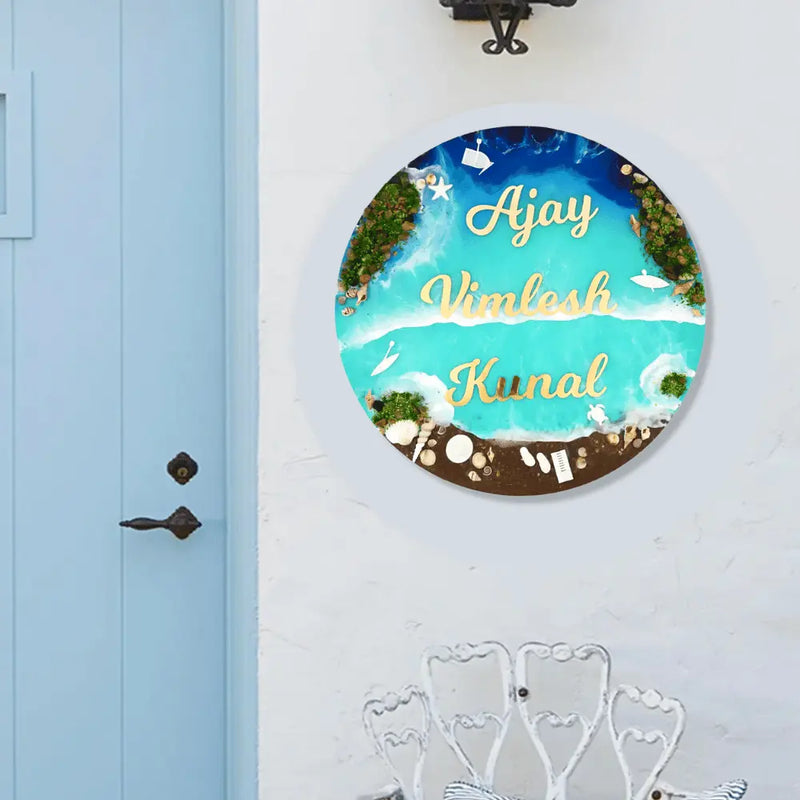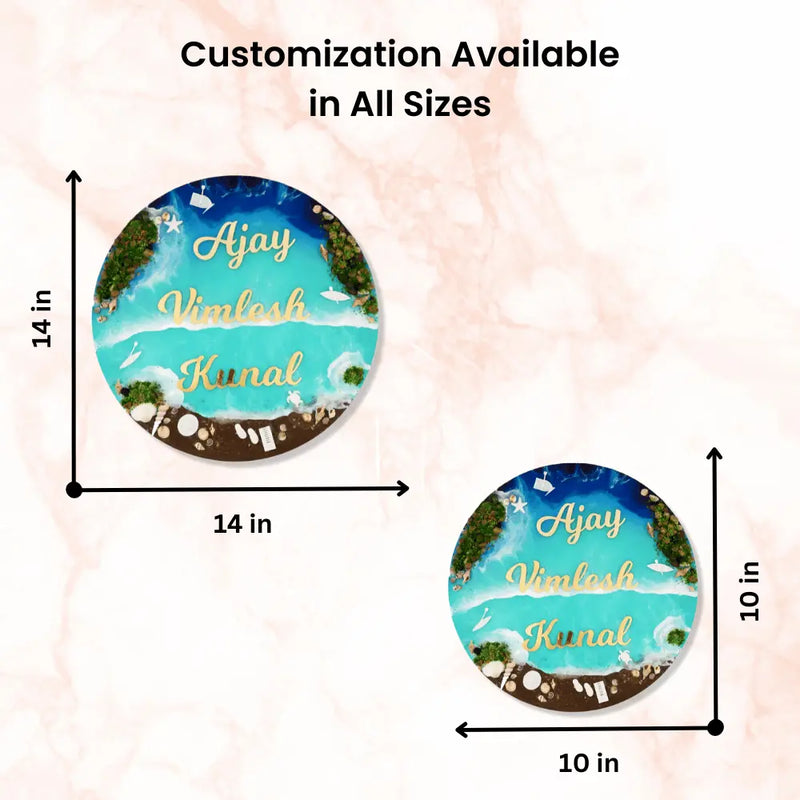 Resin Door Nameplate Ocean Round For Living Room, Home, Office, Housewarming Gift, Birthday, Anniversary
Sale price
₹ 2,999.00
Regular price
₹ 3,100.00
3% OFF
Sold out
Every Nameplate is made with Premium Resin Art
Perfect for Home, Office & Gifting, Free Cash on Delivery, Whatsapp on +91-6376029476 after order
Introducing the Resin Nameplate Ocean Round from Classy Artz by Kavita - the perfect addition to your home decor and a great gifting option for any occasion!

Crafted with the finest quality epoxy resin and a sturdy wood base, this nameplate is designed to add a touch of elegance and style to any room. The beautiful beach colours and ocean-inspired design make it a unique and eye-catching piece that will elevate the ambiance of your living space.

But that's not all - our Resin Nameplate Ocean Round is completely customizable and personalized to meet your unique preferences. Choose from a range of shapes and sizes to fit your front door or any room in your home or office.

Whether you're looking for a thoughtful birthday gift, a housewarming present, or simply want to enhance the look of your own space, this nameplate is a perfect choice. And with its affordable handmade quality, you won't find a better value anywhere else.

So why wait? Buy your very own custom resin nameplate today and take the first step towards creating a warm and inviting atmosphere in your home. Don't settle for a generic nameplate - choose Classy Artz by Kavita for a truly special and unique addition to your home decor.


Product Specification --

Brand- Classy Artz by kavita
Colour- Beach Colour
Style- Ocean
Material Type- Epoxy Resin, Wood Base
Best For- Gifting, Birthdays, Interior Decorators, Housewarming gift
Room Type- Bedroom, Living Room, Dining Room, Kitchen, Home, Office
Shape & Size- Customised & Personalised

* For Personalisation & Customisation must place pre order with requirement. Order Standard Delivery time 7-14 Days.