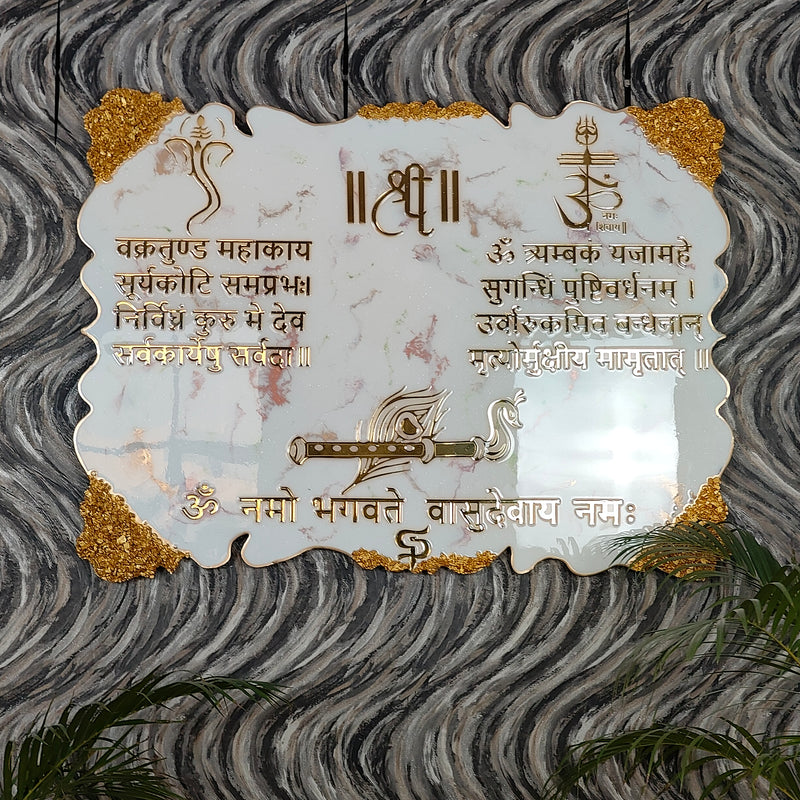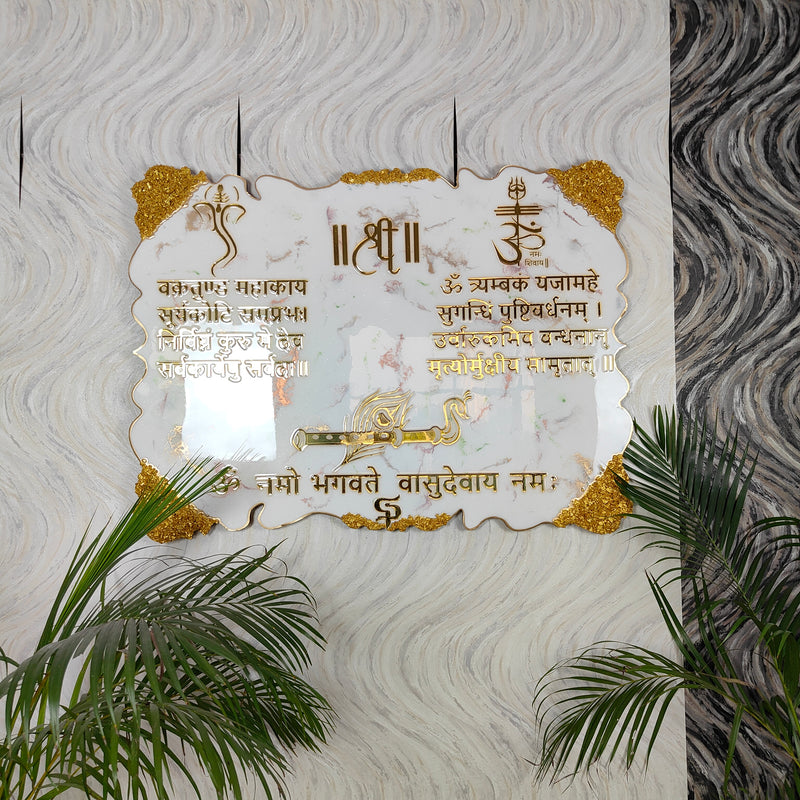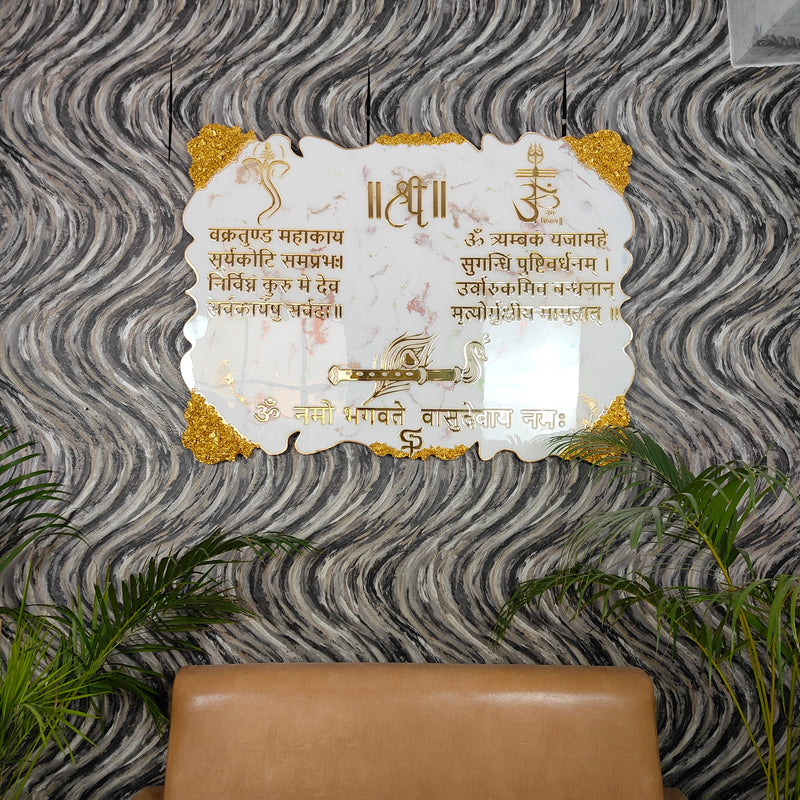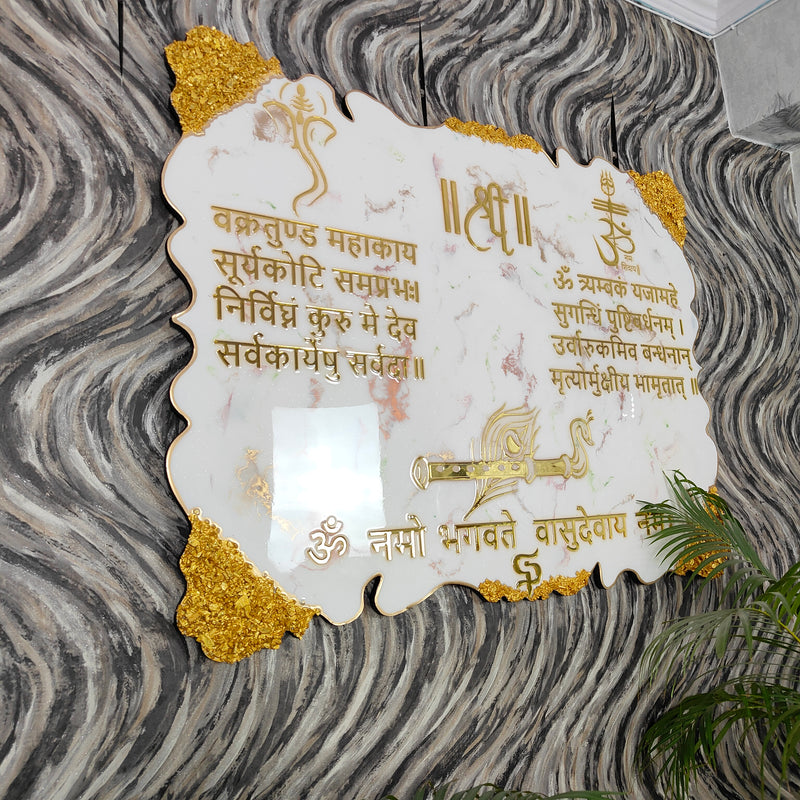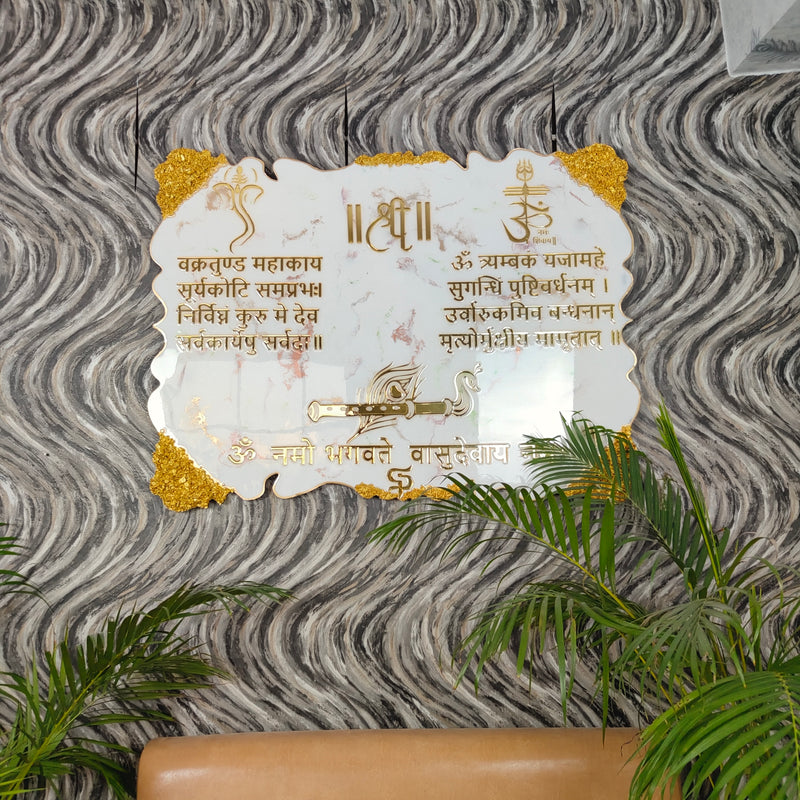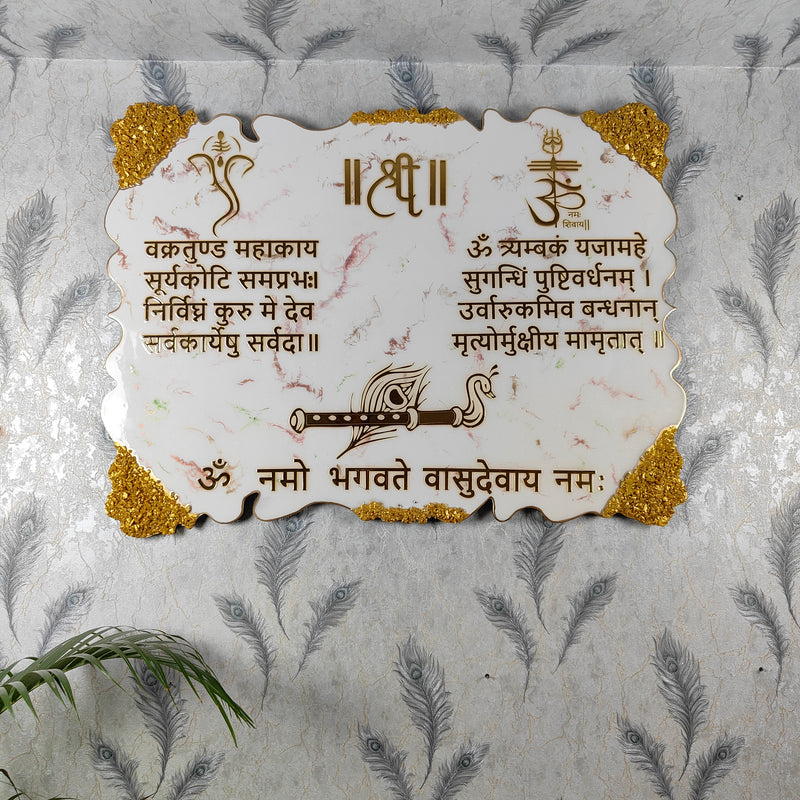 Resin Big Size Mahamrityunjaya and Ganesh Mantra Combo Frame- Classy Home Decorative Wall Frame with Marble Texture
Regular price
₹ 16,500.00
Sale price
₹ 16,500.00
Regular price
₹ 21,999.00
25% OFF
Sold out
Every Mantra Frame is handmade using Resin Art.
You can request for customization border, background color and any other requirements
Embrace Spiritual Bliss: Resin Mahamrityunjaya and Ganesh Mantras United in a Single Frame
Energize your home decor with our Resin Big Size Mahamrityunjaya and Ganesh Mantra Combo Frame. This classy wall frame boasts a stunning marble texture that adds elegance to any space. The Mahamrityunjaya and Ganesh mantras are thoughtfully embedded in resin, creating a harmonious blend of spirituality and aesthetics.
Whether you place it in your living room, bedroom, or office, this decorative frame exudes sophistication. Its large size ensures it becomes a focal point in your decor. Experience the fusion of art and spirituality with this exquisite wall frame, designed to bring a sense of serenity to your surroundings.
Experience Artistry and Spirituality Combined: The Resin Ganesh-Mahamrityunjaya 
Mantra Frame with Elegant Golden Edges
Product Specification & Features
| Specification & Features | Description |
| --- | --- |
| Size | 48x36 Inch and Customizable (Contact for Assistance) |
| Material Quality | High-quality Material |
| Hanging Method | Easy To Hang with Inbuilt Hooks |
| Materials Used | Acrylic, Epoxy Resin, MDF, Made-up Marble Effect |
| Weight | (Depend on Size) |
| Shape | Rectangle (Customized & Personalized) |
| Color | White & Golden |
| Style & Theme | Golden and White Marble Texture Effect Design |
| Packaging | Safe and Attractive Packaging |
| Delivery Time | 5-7 Days |
| Personalization Option | Available |
| Gift-Worthy | Ideal as a thoughtful gift for special occasions or celebrations. |
| Wall Hanging | Designed for easy wall mounting for quick installation. |
| Tabletop Display | Can be displayed on tables, shelves, or any flat surface. |
| Home Decor Accent | Enhances the aesthetic of your home or office decor. |
| Spiritual Significance | Adds a spiritual or inspirational touch to your space. |
| Customer Support | Contact Number: 6376029476 |
| Brand | Classy Artz |
Enhance Your Space with Divine Synergy: Resin Mahamrityunjaya and Ganesh Mantra Frame with Om, Lord Ganesha, and Lord Krishna Flute
Use Case & Placements
This  Can Be Used At These Places
Use Cases & Placements
Description
Home Decor 
- Enhance the aesthetic of your living space.
Interior Design
- Complement your home's interior style.
Wellness Center

- 

Enhances the aesthetic of your wellness center decor

.

Hospitals
- Spirituality of mantras with positive energy
Wall Art
- Combine functionality and artistry on your walls.
Restaurant
- 

Elevate the Bar and restaurant's interior decor.

Living Room
- Make it a focal point of your living space.
Bedroom
- Enhance your bedroom's ambiance.
Dining Room
- Complement your dining area's style.
Kitchen
- Combine functionality with aesthetics in the kitchen.
Study Room
- Create a conducive study environment.
Hallway
- Add character to your hallway decor.
Reception
- Elevate the hotel's interior decor.
Conference Rooms
- Add sophistication to meeting and event spaces.
Pooja Room
-

 

Elevate your sacred space with our Resin Mantra Frame

.
Office
- Enhance the atmosphere around the office area.
Guest Rooms
- Provide functional and decorative timekeeping.
Experience Artistry and Spirituality Combined: The Resin Ganesh-Mahamrityunjaya Mantra Frame with Elegant Golden Edges
Packaging & Dispatching

Here's a detailed breakdown of the packaging process:-
Three-Layer Bubble Wrap: The frame is carefully wrapped with three layers of high-quality bubble wrap. This multi-layered cushioning acts as a shock-absorbent barrier, shielding the frame from impacts and vibrations.
Custom-Fit Carton: After the bubble wrap cocooning, the frame is placed snugly inside a custom-fit carton. This carton is designed to prevent any movement or shifting during transit, ensuring the frame stays securely in place.
Fragile Labeling: The package is prominently labeled as "Fragile" to alert the courier and handling personnel to exercise extra care.
Outer Packaging:  The outer packaging is sturdy and designed to withstand external pressures. It is crafted not only for protection but also to maintain the aesthetic appeal of the product.