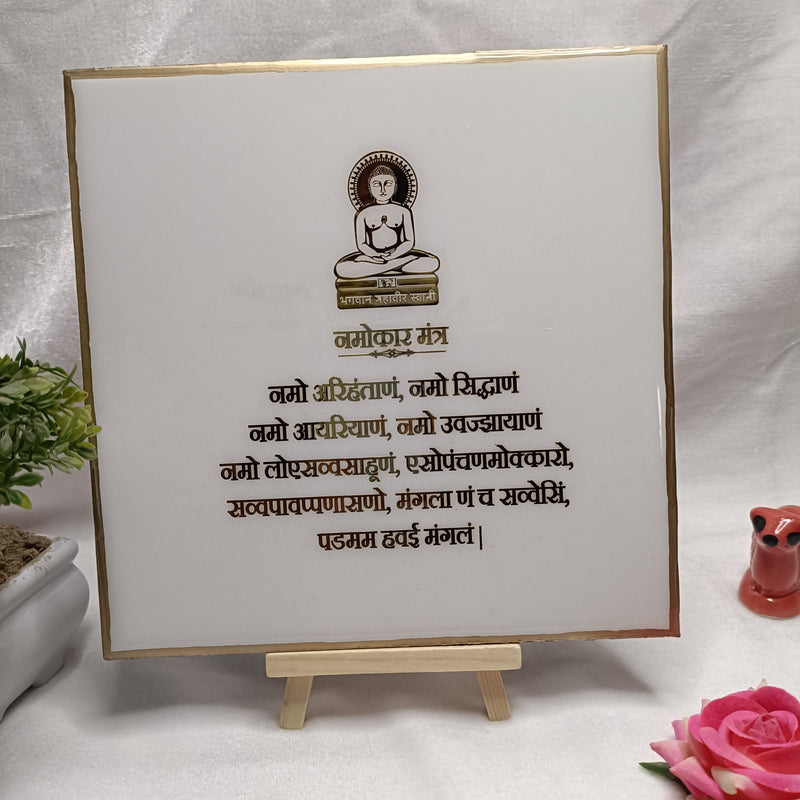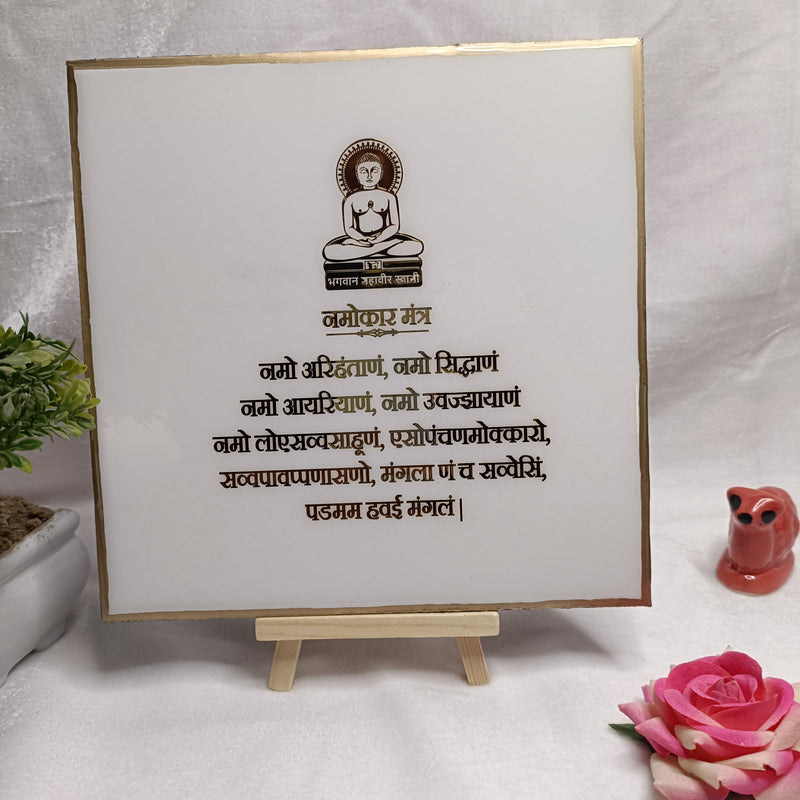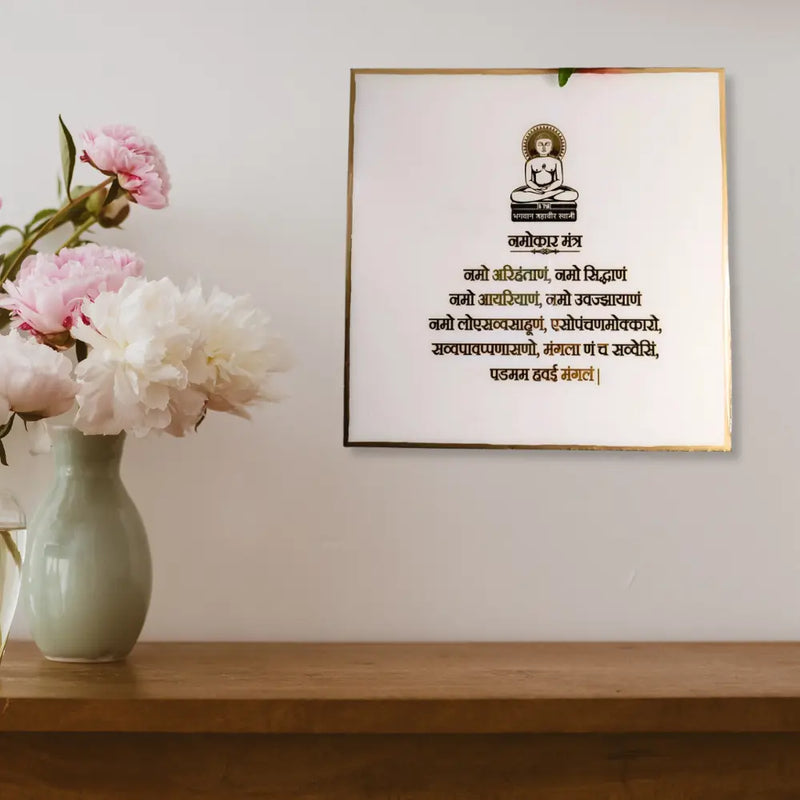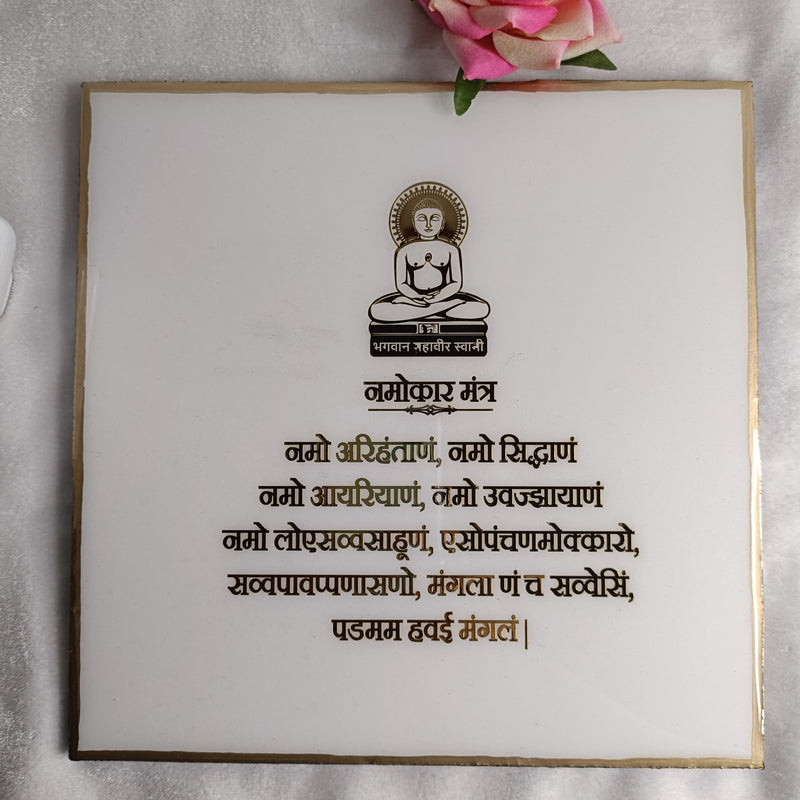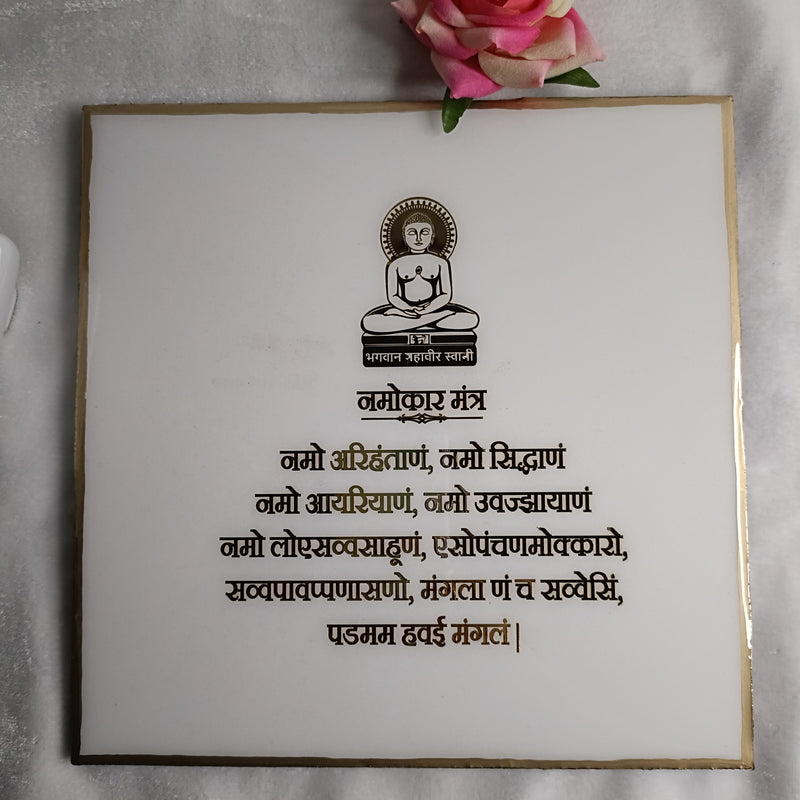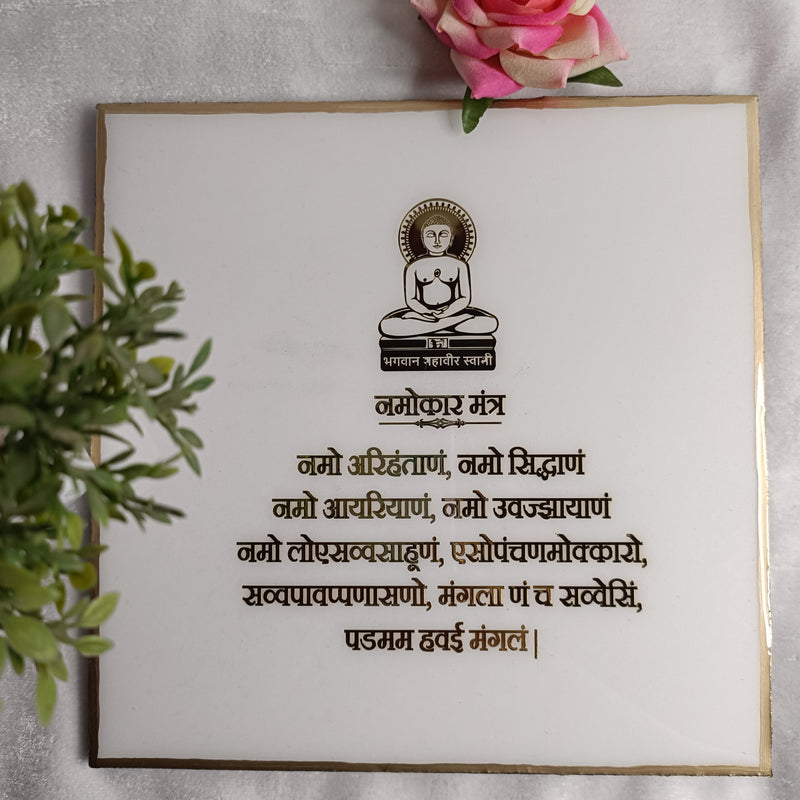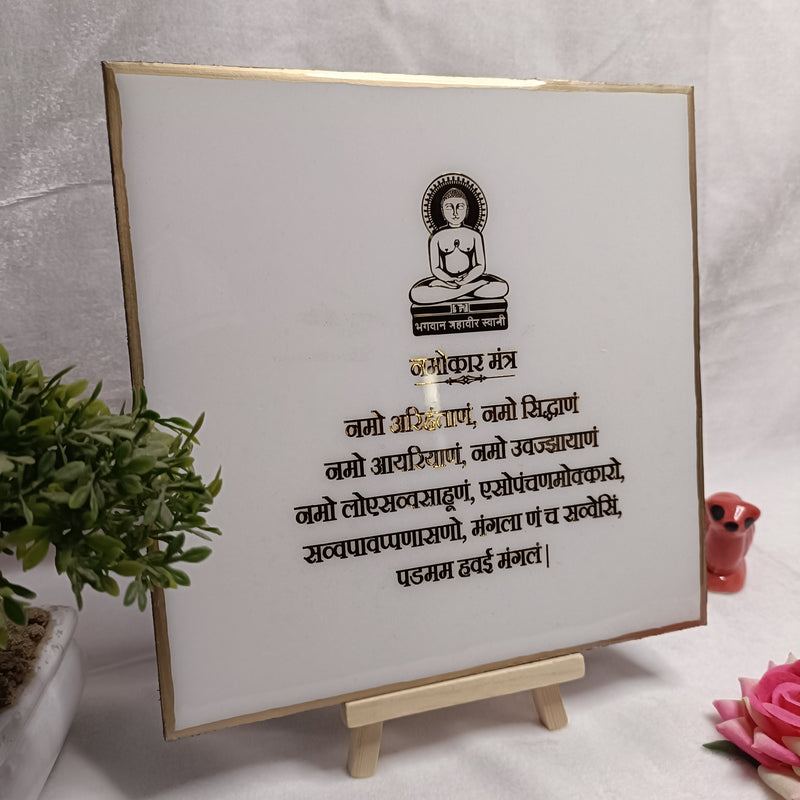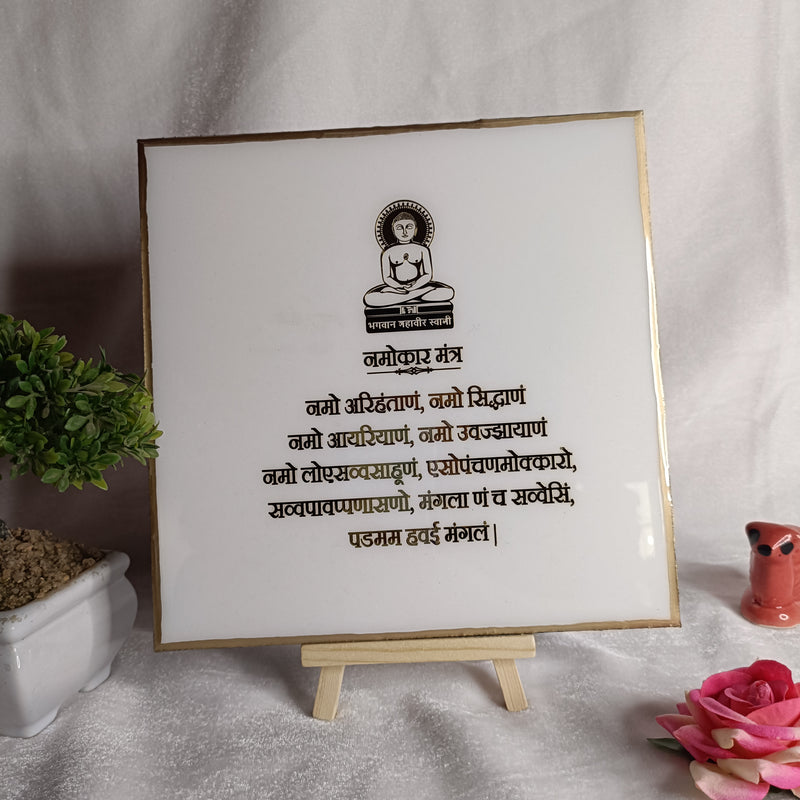 Resin Mini Navkar Mantra Frame For Prayer Room (With Mahaveer Ji Photo)
Sale price
₹ 1,399.00
Regular price
₹ 1,599.00
13% OFF
Sold out
Every Mantra Frame is handmade using Resin Art.
You can request for customization border, background color and any other requirements
Nurture Devotion with the Mahaveer Ji Photo: Resin Mini Navkar Mantra Frame for Your Prayer Room.
Elevate your living space with our Designer Resin Mini Navkar Mantra Frame For Prayer Room, featuring a stunning Mahaveer Ji photo. This exquisite piece seamlessly combines luxury and spirituality, making it an ideal addition to your home or office. Crafted for both interior and exterior decor, it's perfect for the living room, bedroom, hallway, or even outdoor spaces like a lake house.
Not only does it enhance your aesthetic appeal, but it also infuses positivity, promotes relaxation, and fosters spiritual connections. Ideal for bulk gifting, the Jain community often chooses it for events and festivals. Experience increased focus, creativity, and a sense of security with this bespoke mantra frame.
Enhance Spiritual Connection with Resin Mini Navkar Mantra Frame
Product Specification & Features
Specification & Features
Description
Size

8X8 Inch

and Customizable (Contact for Assistance)
Material Quality
High-quality Material (Made on MDF Base - Size 6 mm to 12 mm According to Size)
Hanging Method
Easy To Hang with Inbuilt Hooks
Materials Used
Acrylic, Epoxy Resin, MDF, Made-up Marble Effect
Weight
Approximately 2 Pound (Depend on Size)
Shape
Square (Customized & Personalized)
Color
White and Golden

Style & Theme
White and Golden with Mahaveer ji Photo Marble Texture Effect Design
Packaging
Safe and Attractive Packaging
Delivery Time
5-7 Days ( All over Pan India )
Personalization Option
Available
Gift-Worthy
Ideal as a Thoughtful Gift for Special Occasions or Celebrations.
Wall Art

Easy to Hang on the Wall

Tabletop Display
Can be displayed on tables, shelves, or any flat surface.
Home Decor Accent
Enhances the aesthetic of your home or office decor.
Spiritual Significance
Adds a spiritual or inspirational touch to your space.
Customer Support
Contact Number: 6376029476
Brand
Classy Artz
Luxury Resin Wall Art: Mini Navkar Mantra Frame with Mahaveer Ji Photo
Use Case & Placements
This Wall Clock Can Be Used At These Places
Use Cases & Placements
Description
Home Decor 
- Enhance the aesthetic of your living space.
Interior Design
- Complement your home's interior style.
Wellness Center

- 

Enhances the aesthetic of your wellness center decor

.

Hospitals

- Spirituality of mantras with positive energy

Table Art
- Combine functionality and artistry on your tables.
Restaurant
- 

Elevate the Bar and restaurant's interior decor.

Living Room
- Make it a focal point of your living space.
Bedroom
- Enhance your bedroom's ambiance.
Dining Room
- Complement your dining area's style.
Kitchen
- Combine functionality with aesthetics in the kitchen.
Study Room
- Create a conducive study environment.
Hallway
- Add character to your hallway decor.
Reception
- Elevate the hotel's interior decor.
Conference Rooms
- Add sophistication to meeting and event spaces.
Pooja Room
-

 

Elevate your sacred space with our Resin Mantra Frame

Office
- Enhance the atmosphere around the office area.
Guest Rooms
- Provide functional and decorative timekeeping.
Stunning Navkar Mantra Frame for Positive Vibes in Every Room
Bulk Gifting Solutions for Jain Festivals/Events and Occasions
Festivals/Events
Festivals/Events
Mahavir Jayanti
Guru Purnima
Paryushana Parva
Kartik Purnima
Diwali
Akshaya Tritiya
Samvatsari
Snatra Puja
Varshitap Parna
Dhikkar Dashami
Kshamavani
Diksha Divas
Kalpasutra Day
Packaging & Dispatching

Here's a detailed breakdown of the packaging process:-
Three-Layer Bubble Wrap: The frame is carefully wrapped with three layers of high-quality bubble wrap. This multi-layered cushioning acts as a shock-absorbent barrier, shielding the frame from impacts and vibrations.
Custom-Fit Carton: After the bubble wrap cocooning, the frame is placed snugly inside a custom-fit carton. This carton is designed to prevent any movement or shifting during transit, ensuring the frame stays securely in place.
Fragile Labeling: The package is prominently labeled as "Fragile" to alert the courier and handling personnel to exercise extra care.
Outer Packaging:  The outer packaging is sturdy and designed to withstand external pressures. It is crafted not only for protection but also to maintain the aesthetic appeal of the product.