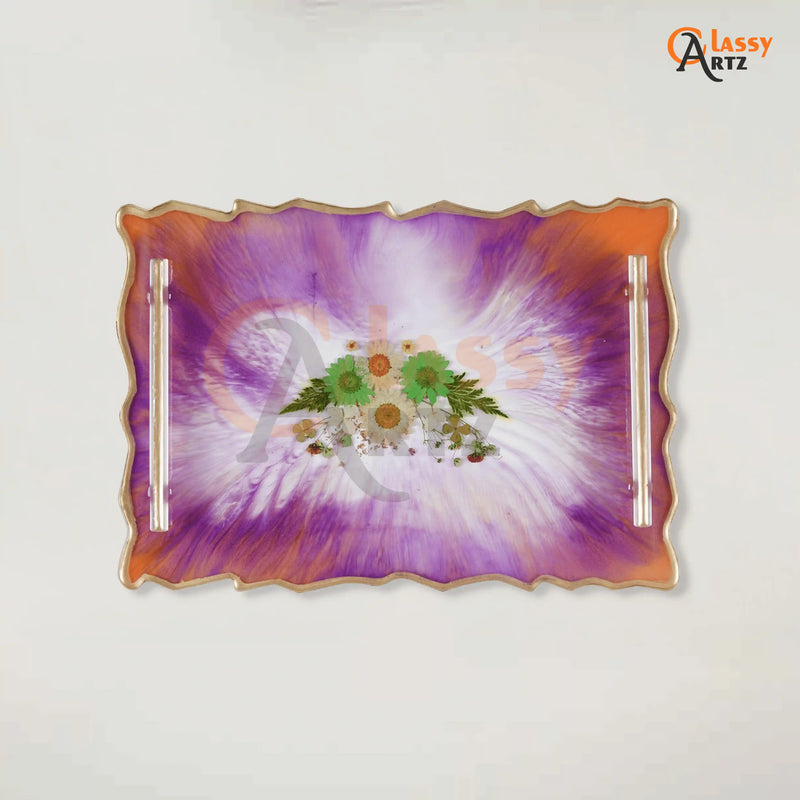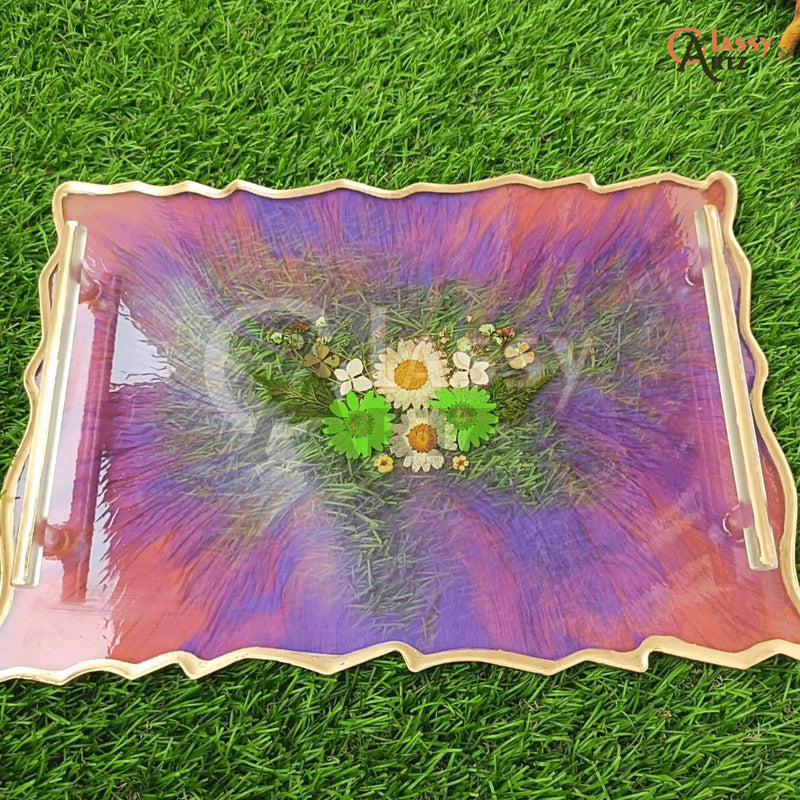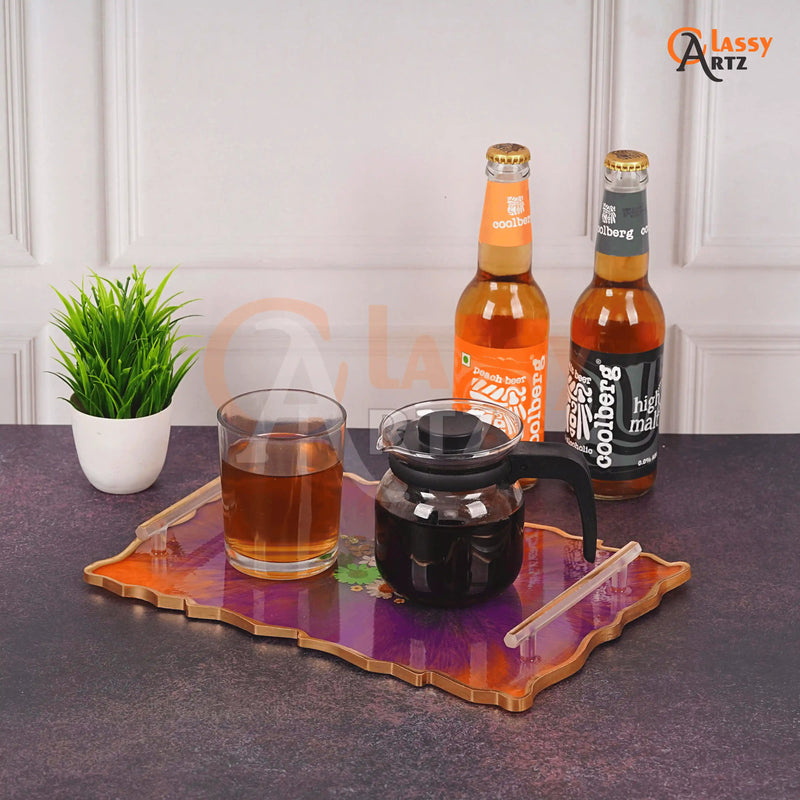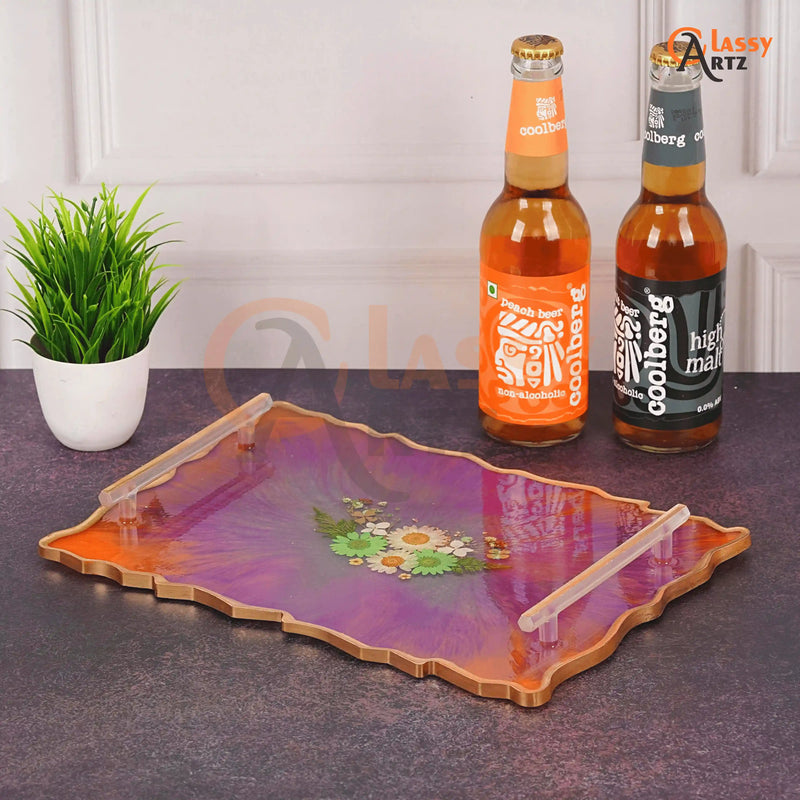 Handmade Resin Tray With Floral Veins Effect For Serving, Home Decor, Kitchen Decor
Sale price
₹ 2,350.00
Regular price
₹ 3,200.00
27% OFF
Sold out
Table Top & Showpiece with Premium Quality & Finishing
Best for Home Decor, Gifting, statue & Idols lovers
Introducing the Handmade Resin Tray with Floral Veins Effect by Classy Artz, the perfect addition to any home or office. This stunning tray is a masterpiece, crafted with the utmost care and attention to detail to create a unique and beautiful product that is perfect for gifting, birthdays, and interior decoration.

Made from high-quality epoxy resin, this tray boasts a stylish floral veins effect in striking shades of red and purple that is sure to captivate your attention. The unique, customized and personalized shape and size makes it ideal for any room in your home, whether it's your bedroom, living room, dining room, kitchen, bathroom, or even your home office.

This Handmade Resin Tray is not just a beautiful decorative piece, but also a functional serving tray that is perfect for entertaining guests or serving meals in style. Its sturdy construction and convenient resin handles make it easy to carry from one room to another, while the ample size ensures that it can hold all your essentials.

What sets this Handmade Resin Tray apart is the attention to detail and quality that goes into its creation. Each tray is handmade by skilled artisans, ensuring that no two trays are exactly alike. The result is a stunning piece that is truly one of a kind.

At Classy Artz, we believe in providing our customers with the best possible experience, which is why we offer free shipping all over India, including major cities like Mumbai, Pune, Delhi, Ahmedabad, Surat, Chennai, Kolkata, Bangalore, and Hyderabad. Whether you're looking for decorative trays online, a custom resin tray, a resin tray with handles, handmade trays, or a large resin tray, we've got you covered.

In summary, the Handmade Resin Tray with Floral Veins Effect by Classy Artz is a must-have for anyone who appreciates beauty, quality, and functionality. Add this stunning tray to your collection today and experience the difference that comes with owning a unique, handmade piece. Don't wait, order now and elevate your interior décor!
Product Specification --

Brand- Classy Artz by kavita
Color- Red and Purple
Style- Floral Veins Effect
Material Type- Epoxy Resin
Best For- Gifting, Birthdays, Interior Decorators
Room Type- Bedroom, Living Room, Dining Room, Kitchen, Bathroom, Home Office
Shape & Size- Customised & Personalised

* For Personalization & Customization must place pre order with requirement. Order Standard Delivery time 7-14 Days.
At Classy Artz, we offer a hassle-free shipping policy to ensure your satisfaction. Our ready-made products will be shipped within 2-4 days, allowing you to enjoy your purchase in no time. We understand the importance of prompt delivery, and that's why we strive to get your order to you as quickly as possible. What's more, we are proud to offer free shipping on all our products, making your shopping experience even more enjoyable. Shop with confidence at Classy Artz and let us take care of the rest.