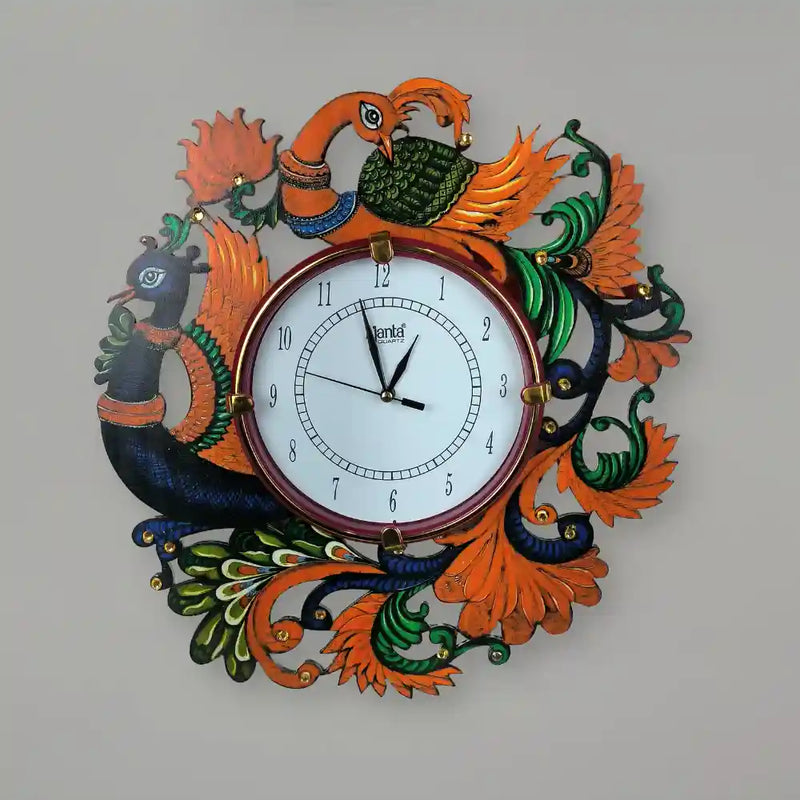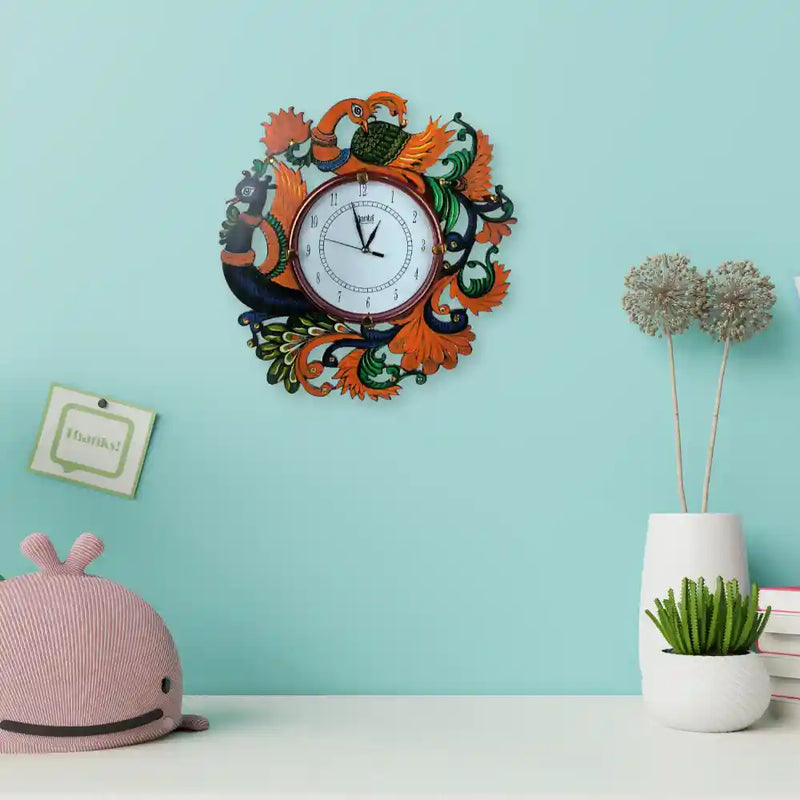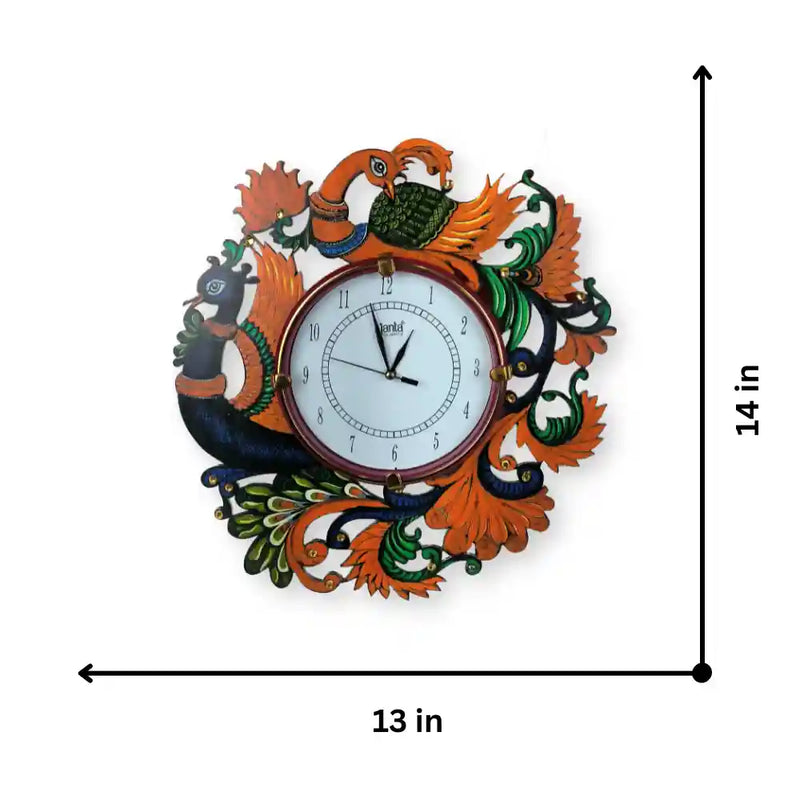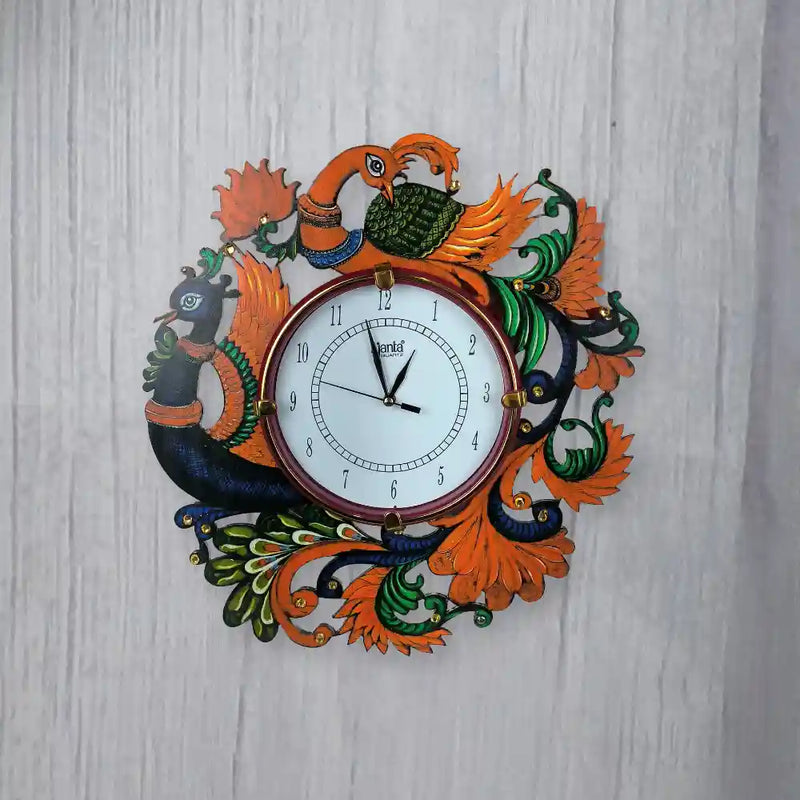 Fancy Stylish Peacock Wall Clock Antique Wooden Hand Made Multicolor Wall Clock
Sale price
₹ 899.00
Regular price
₹ 1,299.00
31% OFF
Sold out
New Unique Designs, Made with High Quality MDF
Best for Living Room, Office, Home & Gifting
| | |
| --- | --- |
| Brand | Classy Artz |
| Theme | Animal |
| Color | Multcolor |
| Type | Analog |
| Style | Antique |
| Shape | Round |
| Material | Wood |
| Room Type | Bedroom, Living Room, Office, Hall |
| Dimensions | Dimensions - 35W x 35H Centimeters |
...
Introducing the Fancy Stylish Peacock Wall Clock by Classy Artz, a unique and eye-catching addition to your home décor. This exquisite wall clock combines a vintage appeal with a touch of natural elegance, making it a perfect fit for any space, whether it be your living room, office, hall, or bedroom.
The clock features a mesmerizing design inspired by the graceful peacock, showcasing its vibrant and multicolored plumage. Each detail of the peacock's feathers is intricately handcrafted with care, giving the clock a truly artisanal feel. The use of high-quality resin as the primary material ensures durability and longevity, allowing you to enjoy this stunning timepiece for years to come.
Measuring 35 centimeters in both width and height, this round wall clock is perfectly sized to make a statement without overpowering your existing décor. The analog display provides a classic touch, allowing for easy time-telling at a glance. The clock's antique style adds a nostalgic charm, creating a timeless aesthetic that complements various interior design themes.
The Fancy Stylish Peacock Wall Clock is thoughtfully designed to be versatile and suitable for various room types. Whether you choose to place it in your bedroom, living room, office, or even a hallway, it effortlessly enhances the ambiance of the space, adding a touch of sophistication and elegance.
In addition to its stunning visual appeal, this wall clock also offers excellent functionality. It utilizes a reliable and precise quartz movement mechanism, ensuring accurate timekeeping throughout the day. The clock's sturdy build and high-quality components guarantee long-lasting performance, making it a reliable timekeeping companion.
When it comes to pricing, the Fancy Stylish Peacock Wall Clock offers exceptional value for its unique design and craftsmanship. Classy Artz aims to provide affordable luxury, making this clock an affordable yet stylish option for those looking to elevate their home décor without breaking the bank.
In summary, the Fancy Stylish Peacock Wall Clock by Classy Artz is a captivating piece of art that seamlessly blends antique charm, natural beauty, and functionality. Its handcrafted design, vibrant colors, and durable construction make it an ideal choice for anyone seeking a distinctive and stylish addition to their home or office. With its versatile placement options and affordable price, this clock is a must-have for those who appreciate the fusion of art and timekeeping.