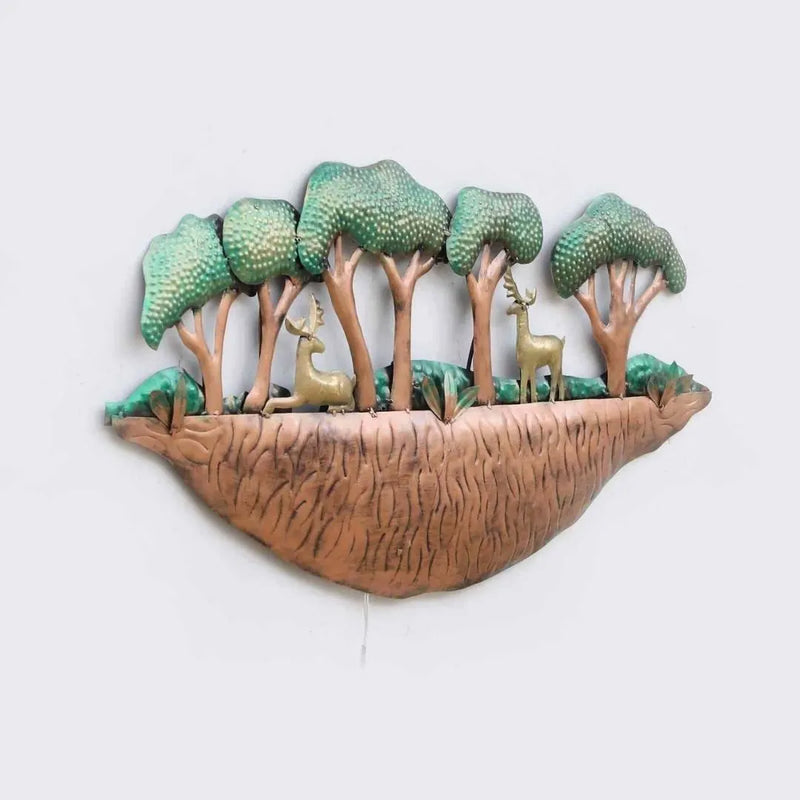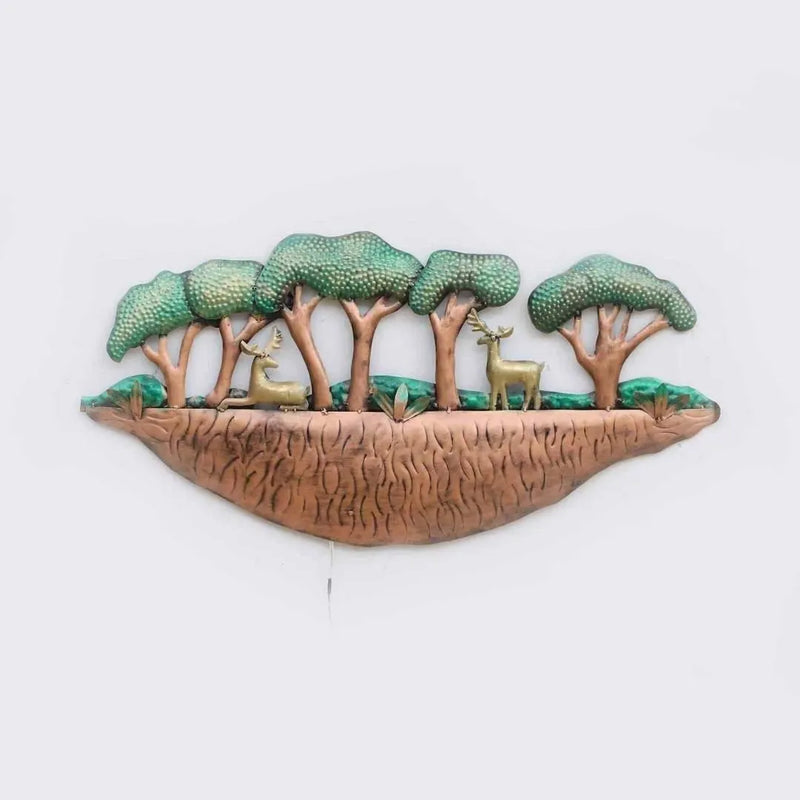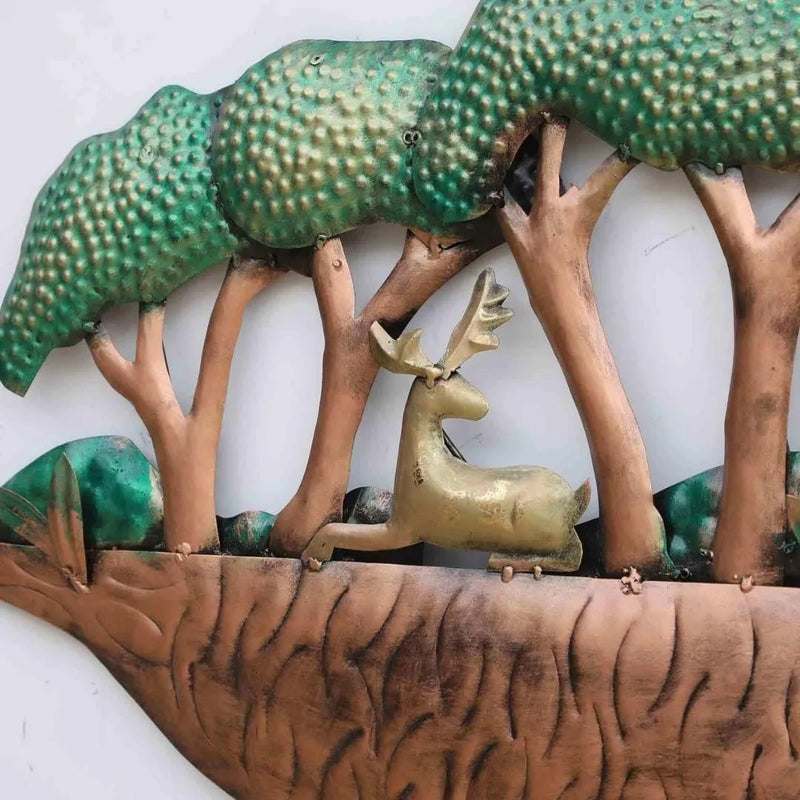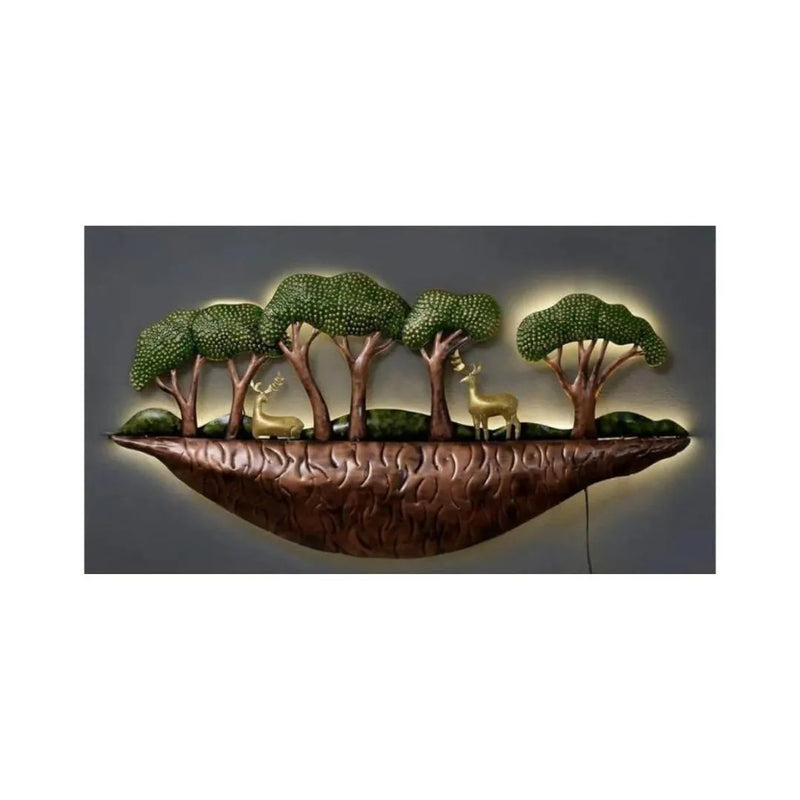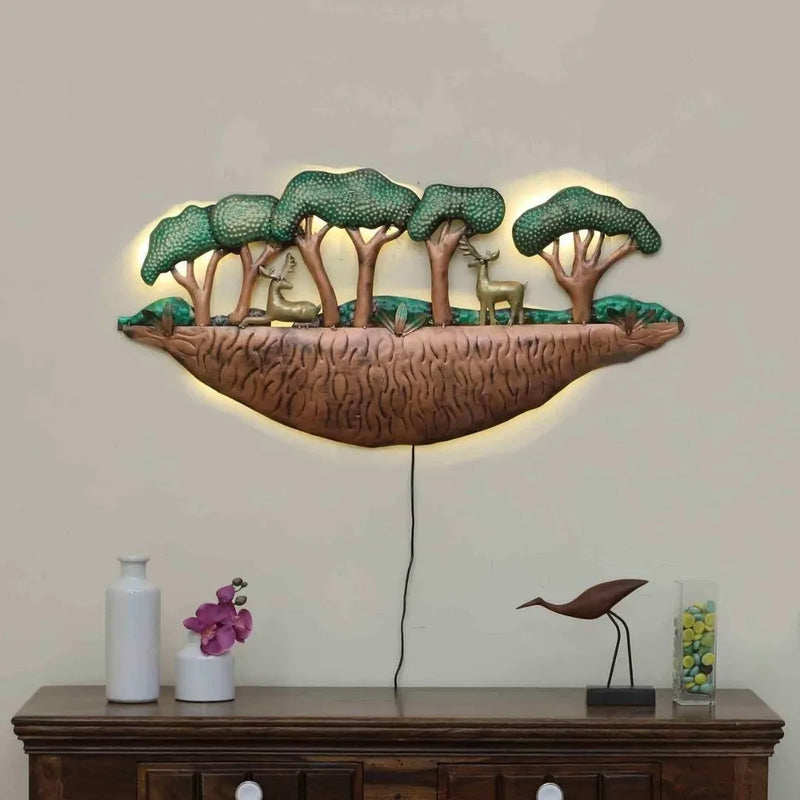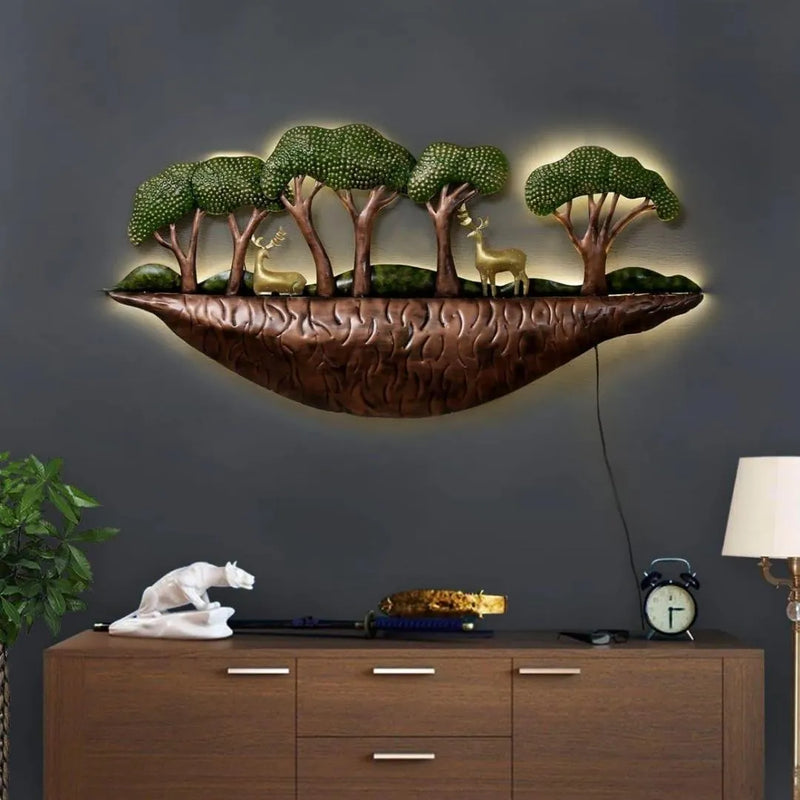 Handmade LED-Lit Landscape View with Deer in Forest - Metal Wall Art for Home (48×16 Inches)
Sale price
₹ 6,199.00
Regular price
₹ 9,199.00
33% OFF
Sold out
Unique Wall Art for High Class Interior
Premium Quality & Finishing, Best for Home Decor & Gifting
Designer LED Metal Wall Art: Stunning Landscape View Decor for Living Rooms and More
Experience the enchantment of our Landscape View Decorative Metal Wall Art, adorned with LED lights, perfect for your home decor. Crafted meticulously, this 48×16-inch handmade sculpture depicts serene deers in a forest, infusing nature's beauty into your living space. Illuminate your surroundings with LED lights that create a captivating ambiance.
This metal wall decor combines artistry and craftsmanship, making it a trendy addition to modern interiors. Embrace the rustic charm and elegance it brings to your home. Elevate your decor with this remarkable piece, showcasing the beauty of metal wall art. Reconnect with nature's tranquility in the comfort of your own space.
Decorative Deers in Forest: Handmade Metal Wall Sculpture with LED Light - Elevate Your Home Decor
Product Specification & Features 
| Specification | Description |
| --- | --- |
| Material | Metal |
| Installation | Inbuilt Hooks, Easy to Hang |
| Craftsmanship | Handmade |
| Origin | Made in India |
| Color | Green, Golden & (Customizable) |
| Used as | Wall Hanging, Wall Mural, Wall Art, Wall Decor |
| Perfect for | Living Room, Bedroom, Restaurant, Hotel Wall |
| Care | Clean with a Soft, Damp Cloth |
| Delivery Time | 6-7 Days (All Across Pan India) |
| Brand | Classy Artz |
| Customer Support | Contact Number: 6376029476 |
| Item Shape | Rectangle |
| Additional Features | Anti-rust Powder Coating for Long Life, Lacquer Finish for Highlights |
| Theme | Tree, Deers Theme, Metal Wall Art, Wall Accent, Metal decor, Home decor |
Stunning Deers Tree Decor: Decorative Metal Wall Art for Master Bedrooms and Beyond
Use Case & Placements
Home:

Living Room: Hang it above your sofa or on a prominent wall to create a captivating focal point that complements your living room decor. It adds a touch of elegance and character to the space.

Bedroom: Place it above the headboard of your bed to create a calming and visually pleasing atmosphere. The artwork can set the tone for relaxation and sophistication.

Dining Room: Enhance your dining area with metal wall art as a backdrop for your dining table. It adds a sense of style and refinement to your meals.

Hallway: Use it in a long hallway to break up the blank wall space and create an inviting and artistic corridor. It can be a conversation starter for guests.
Luxury Home Decor: LED Landscape View Metal Wall Art - Perfect for Dining Rooms and Lounges
Office:

Reception Area: Display it in your office's reception area to create a welcoming and impressive first impression for clients and visitors.

Conference Room: Add the artwork to your conference room to inspire creativity and provide a sophisticated backdrop for important meetings.

Executive Office: Hang it in your office to convey a sense of personal style and professionalism. It can serve as a source of inspiration during your workday.

Commercial Spaces (Hotel, Restaurant, Cafe):

Hotel Lobby: Make a statement in your hotel's lobby by placing the metal wall art in a prominent location. It sets the tone for a luxurious and memorable stay.

Restaurant: Use it as a decorative element in your restaurant to enhance the overall ambiance and create a memorable dining experience for patrons.

Cafe: In a cafe, the artwork can add a touch of artistry to the decor, making it a cozy and inviting space for customers to relax.

Bar Area: In bars or lounges, the metal wall art can serve as a conversation piece and contribute to the establishment's unique atmosphere.
Elegant Metal Wall Decor: Deers in Forest - Ideal for Lake Houses and Outdoor Spaces
Packaging & Dispatching
Here's a detailed breakdown of the packaging process:-
Three-Layer Bubble Wrap: The frame is carefully wrapped with three layers of high-quality bubble wrap. This multi-layered cushioning acts as a shock-absorbent barrier, shielding the frame from impacts and vibrations.
Custom-Fit Carton: After the bubble wrap cocooning, the frame is placed snugly inside a custom-fit carton. This carton is designed to prevent any movement or shifting during transit, ensuring the frame stays securely in place.
Fragile Labeling: The package is prominently labeled as "Fragile" to alert the courier and handling personnel to exercise extra care.
Outer Packaging:  The outer packaging is sturdy and designed to withstand external pressures. It is crafted not only for protection but also to maintain the aesthetic appeal of the product.