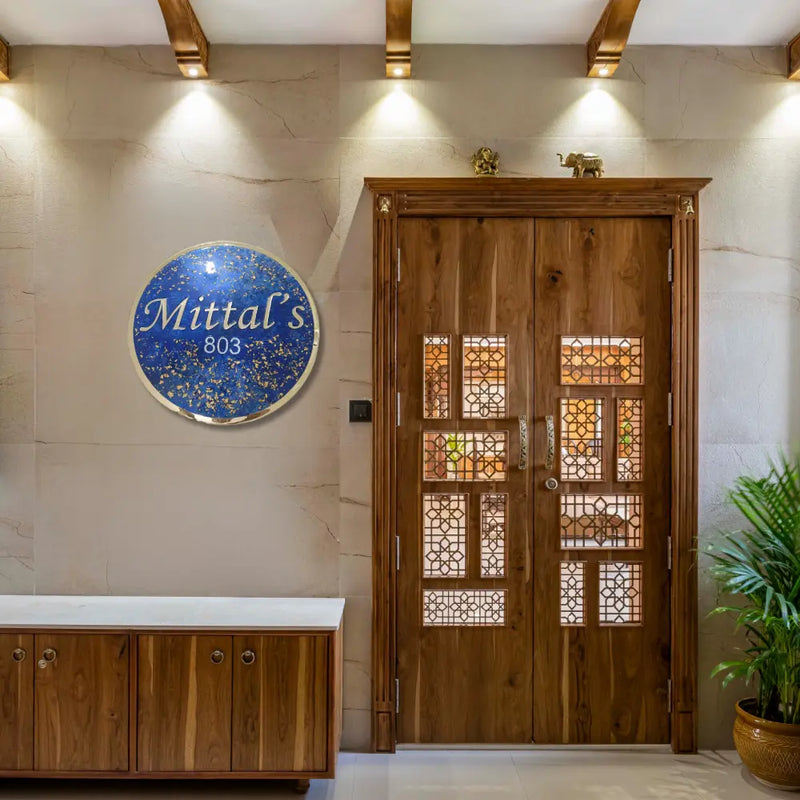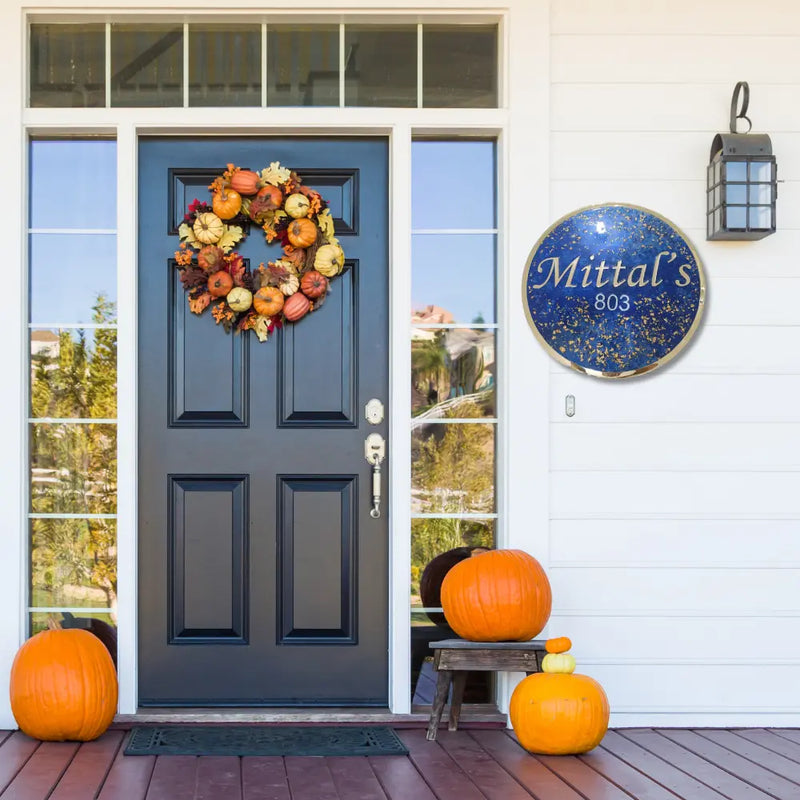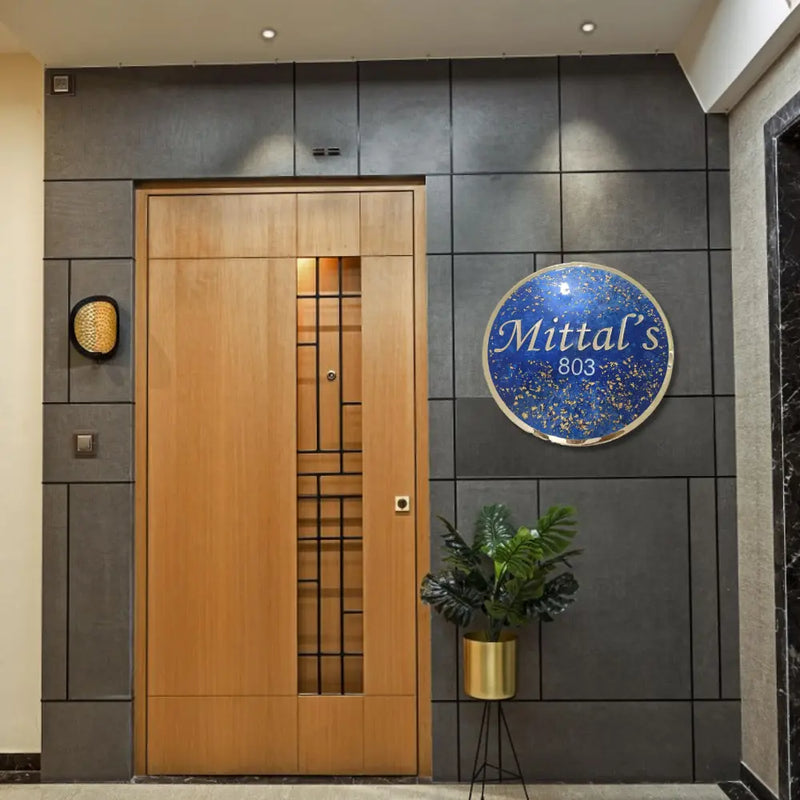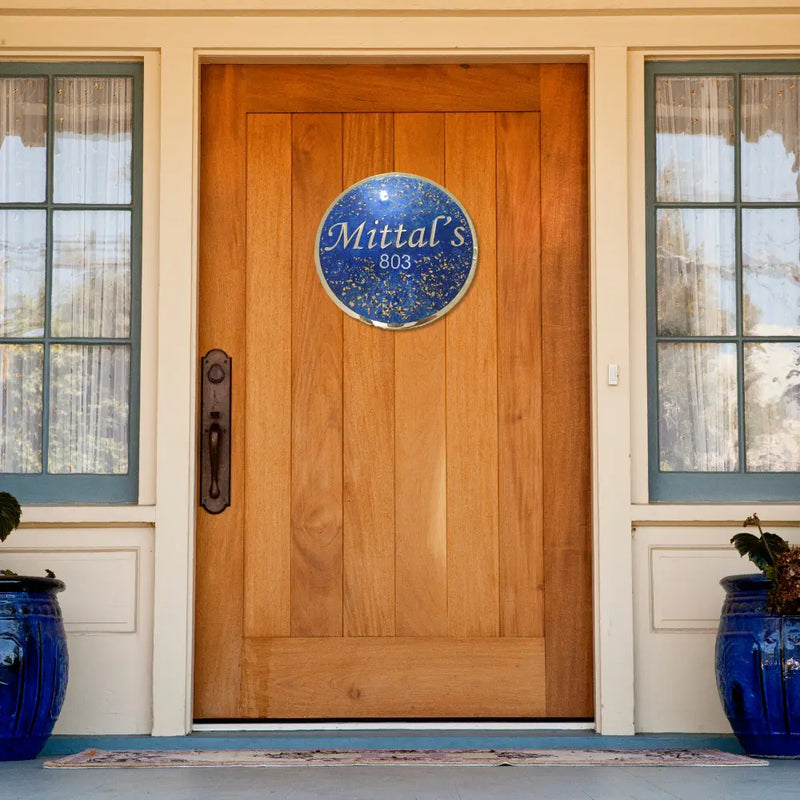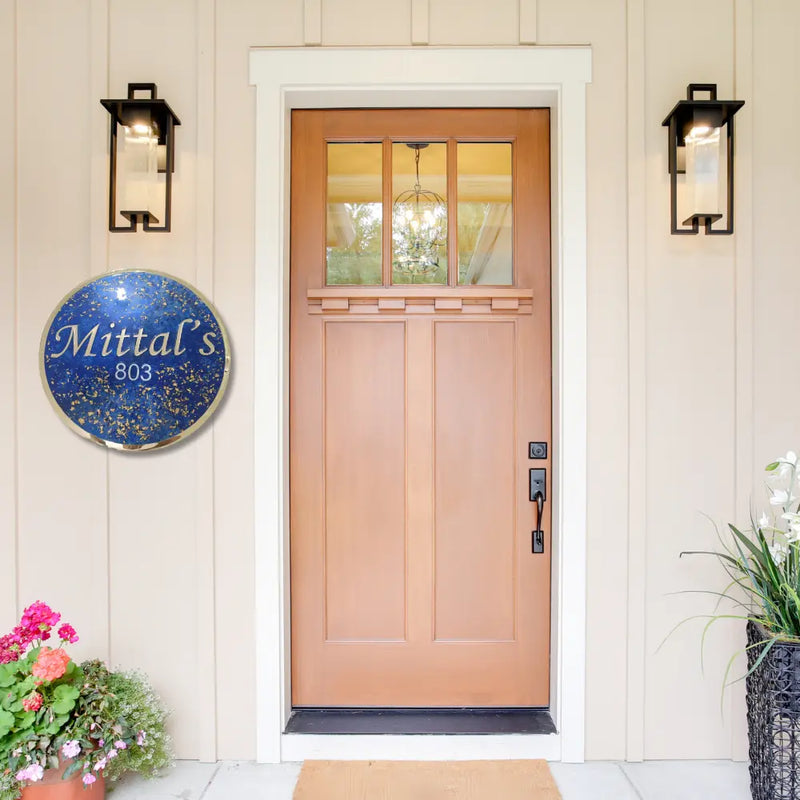 Deep Blue Ocean Texture Customized Resin Nameplate for Home (Round 18 Inch Dia)
Sale price
₹ 5,299.00
Regular price
₹ 6,899.00
23% OFF
Sold out
GET 300₹ Off On Order Above 5,000₹. Use SAVE300
Free Shipping on Order Above 5,000₹
Size - 18 inch round
Base - 6 mm MDF Sheet Base
Colour - Deep blue with golden flecks
Material - Epoxy Resin, Acrylic paint, Acrylic Letters, Golden Flecks, Hooks
Best for - Gifting, Housewarming gift, New home, Home Inauguration gifting
Style- Golden Acrylic Ring Gives Stunning Look
Elevate your home decor with our meticulously crafted Deep Blue Ocean Texture Customized Resin Nameplate. Measuring a generous 18 inches in diameter, this round masterpiece adds a touch of sophistication to any space.
Crafted with care, the nameplate boasts a sturdy 6 mm MDF sheet base, ensuring durability that lasts. The deep blue hue, embellished with captivating golden flecks, creates an enchanting ocean-inspired texture that truly stands out.
Immerse yourself in the luxurious blend of epoxy and acrylic paint, forming a resilient and eye-catching masterpiece. The golden acrylic ring encircling the nameplate adds a touch of opulence, elevating the aesthetic of your home to new heights.
With precision, acrylic letters are artfully placed, forming a nameplate that is uniquely yours. Whether it's a thoughtful housewarming gift for a dear friend or a statement piece for your own new home, this nameplate fits perfectly into any setting.
Unveil a world of possibilities with this nameplate – a masterpiece that beckons admiration. Its versatility shines through as it effortlessly enhances the aura of home inaugurations, making it an ideal addition to your space.
Upgrade your home with a touch of elegance that leaves a lasting impression. Bring the allure of the deep blue ocean into your living space with a nameplate that speaks of your impeccable taste.
Don't miss the chance to own a piece of luxury and style. Elevate your living space today with the Deep Blue Ocean Texture Customized Resin Nameplate – where sophistication meets individuality. Order now and make your home a masterpiece!
At Classy Artz, we believe in the beauty of handmade products crafted with care and precision. Our dedicated artisans put in 6-7 days of work to create each unique piece. We understand how eager you are to receive your order, which is why we offer free shipping. Rest assured, we strive to deliver your purchase within 15-20 days, though delivery times may vary based on your location