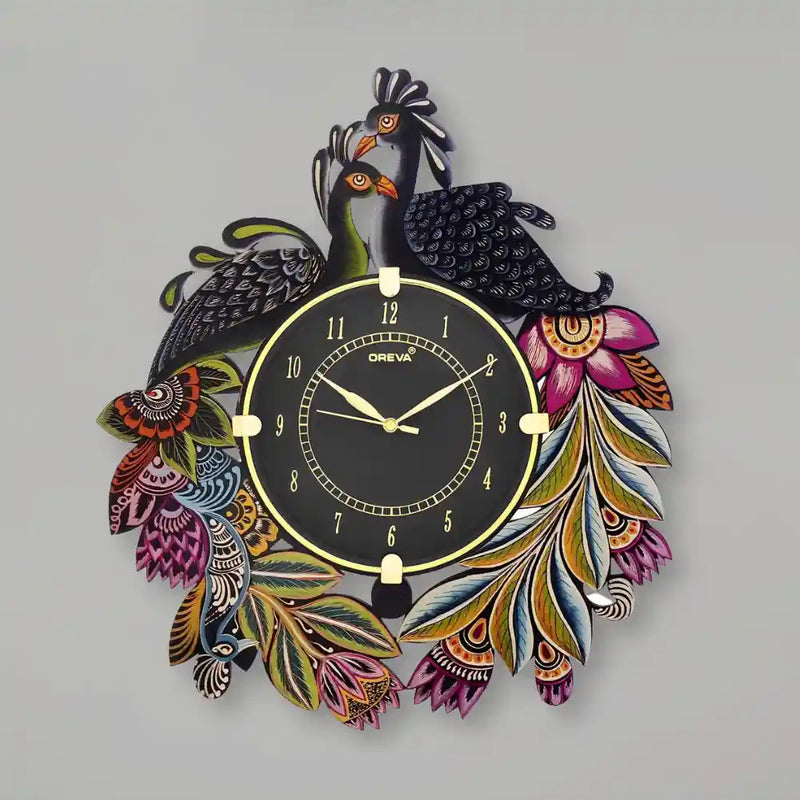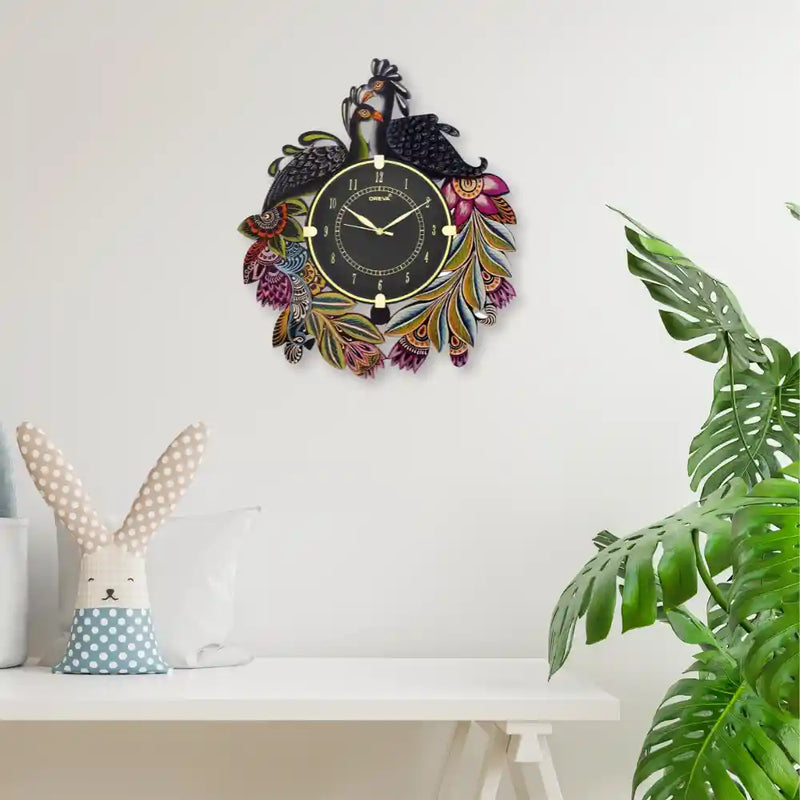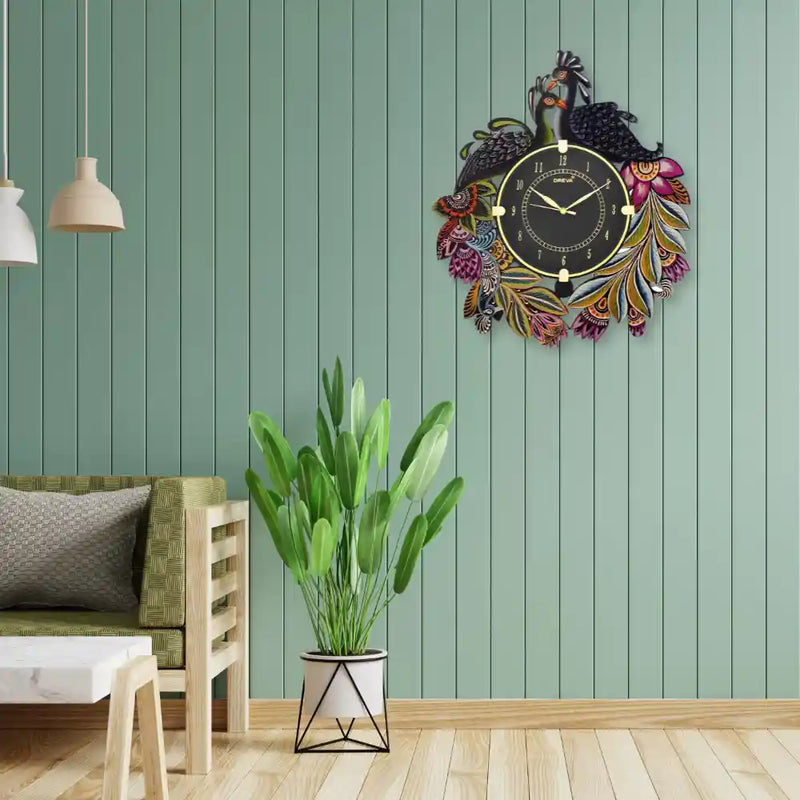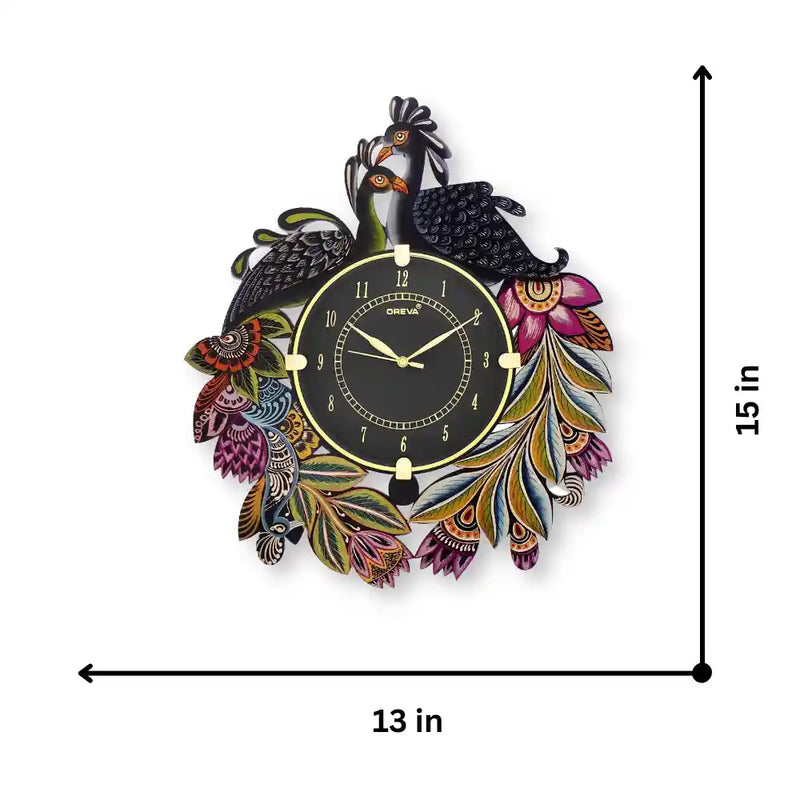 Decorative Colorful Peacock Wall Clock
Sale price
₹ 899.00
Regular price
₹ 1,299.00
31% OFF
Sold out
New Unique Designs, Made with High Quality MDF
Best for Living Room, Office, Home & Gifting
| | |
| --- | --- |
| Brand | Classy Artz |
| Theme | Animal |
| Color | Multcolor |
| Type | Analog |
| Style | Antique |
| Shape | Round |
| Material | Wood |
| Room Type | Bedroom, Living Room, Office, Hall |
| Dimensions | Dimensions - 33W x 33H Centimeters |
...
Introducing the exquisite Decorative Colorful Peacock Wall Clock by Classy Artz, a masterpiece that effortlessly combines functionality with artistic beauty. This stunning clock is designed to enhance the ambiance of any living space, whether it be a bedroom, living room, office, or hall. With its unique and eye-catching design, it is sure to become a focal point of admiration and conversation.
The clock features a mesmerizing peacock theme, capturing the elegance and grace of this magnificent bird. The vibrant and rich multicolor palette adds a touch of liveliness and charm to any room. Each clock is meticulously handcrafted with attention to detail, showcasing the artisan's dedication to creating a true work of art.
Constructed from high-quality resin, this clock boasts durability and longevity. The use of resin ensures that the intricate details of the peacock design are preserved, resulting in a visually stunning timepiece. The round shape of the clock adds a sense of balance and harmony to its overall aesthetic.
This clock is analog, featuring classic hour and minute hands that sweep across the clock face. The analog mechanism not only provides accurate timekeeping but also adds a touch of nostalgia and elegance to your décor. Its dimensions of 33W x 33H centimeters make it a versatile piece that can be easily incorporated into any space without overwhelming the surroundings.
Whether you want to add a touch of sophistication to your bedroom, create a captivating focal point in your living room, or enhance the professional ambiance of your office or hall, this clock is the perfect choice. Its versatility allows it to seamlessly blend with various interior design styles, from traditional to contemporary.
In terms of pricing, the Decorative Colorful Peacock Wall Clock offers excellent value for its exceptional craftsmanship and unique design. Classy Artz aims to provide affordable yet premium-quality home décor items, making this clock an accessible option for those who appreciate both artistry and functionality.
Elevate your living space with the Decorative Colorful Peacock Wall Clock by Classy Artz, and indulge in the charm and beauty of this handcrafted masterpiece. With its exquisite design, durable construction, and affordable price, this clock is the epitome of style and elegance, making it an ideal choice for anyone seeking to enhance their home or office décor.