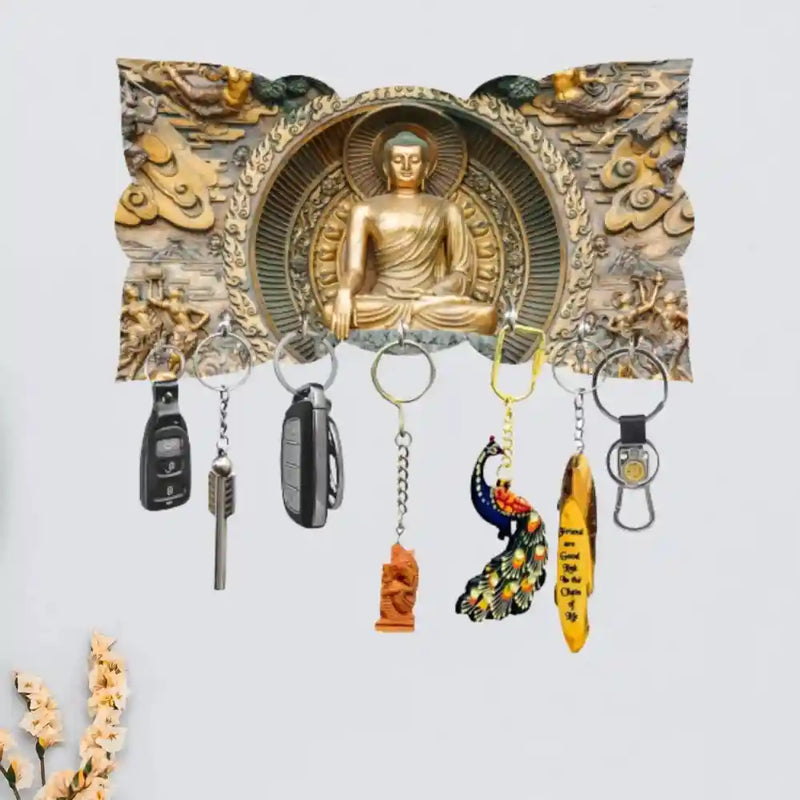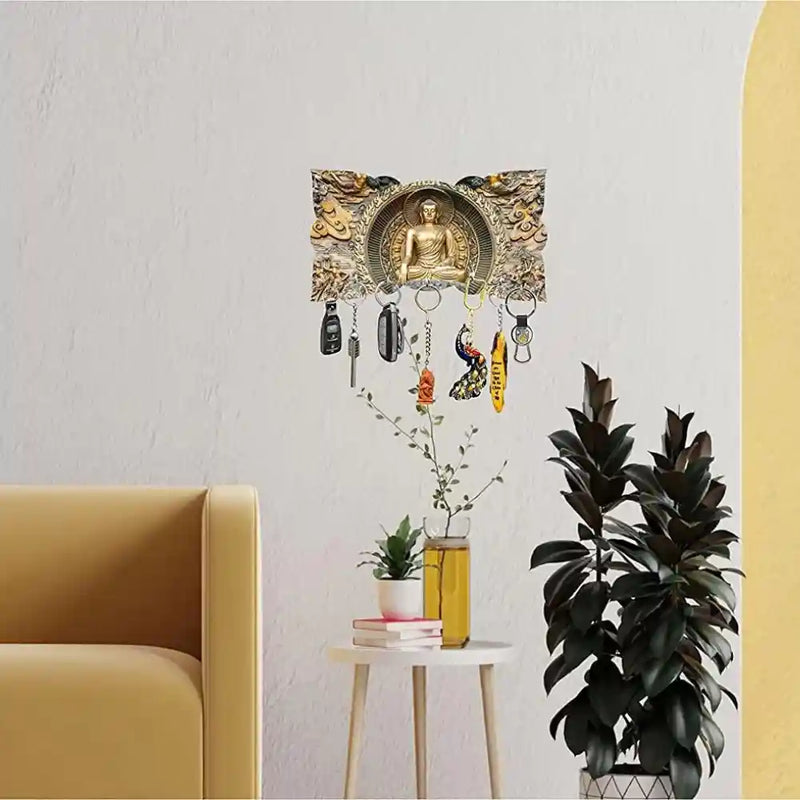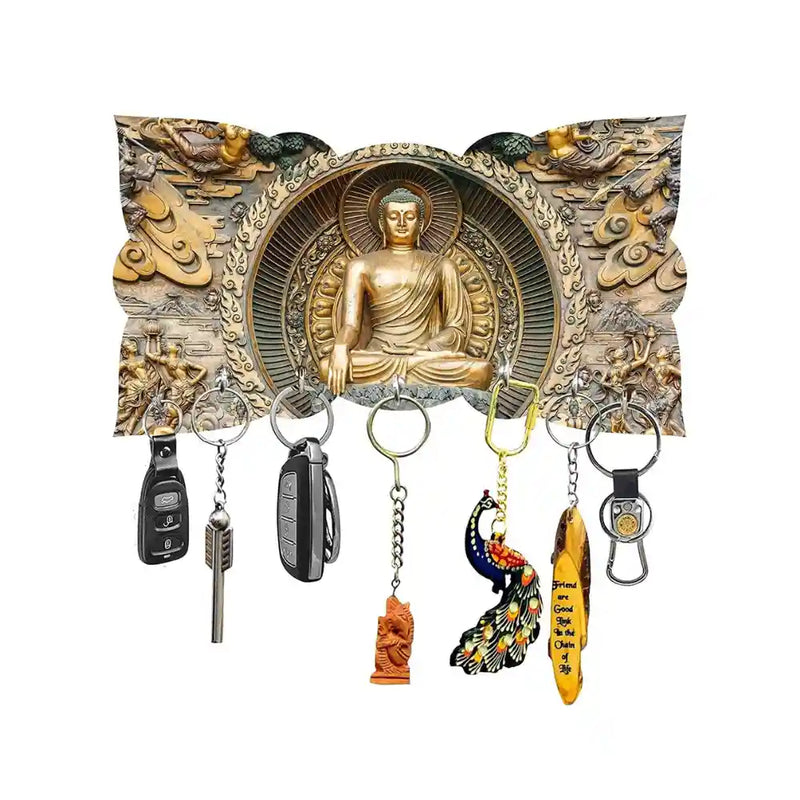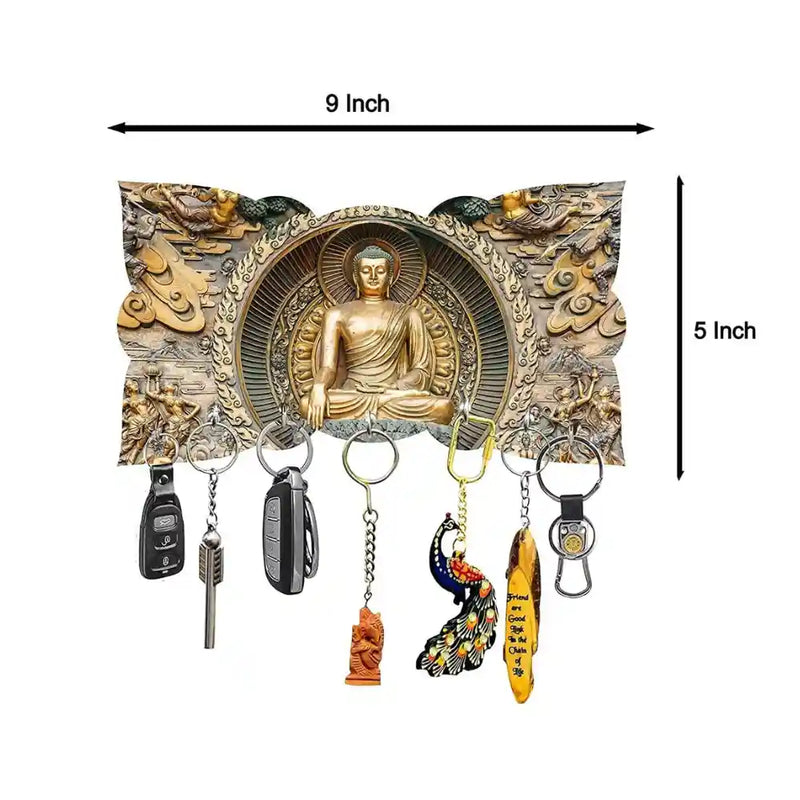 Modern Printed Sitting Gautam Buddha Wooden Key Holder for Home and Office Decor Keychain Holder for Home (9 Inches , 7 Hooks)
Sale price
₹ 199.00
Regular price
₹ 499.00
60% OFF
Sold out
Table Top & Showpiece with Premium Quality & Finishing
Best for Home Decor, Gifting, statue & Idols lovers
| | |
| --- | --- |
| Brand | Classy Artz |
| Color | Multi |
| Style | Modern |
| Material | MDF |
| Dimensions | 9W X 5H Inch |
| Shape | Rectangle |
Introducing the Modern Printed Sitting Gautam Buddha Wooden Key Holder, a perfect blend of elegance and functionality for your home and office decor. This exquisite keychain holder, crafted by Classy Artz, offers a stylish solution to keep your keys organized while adding a touch of tranquility to your space.

Designed with a modern aesthetic, this key holder showcases a captivating print of Sitting Gautam Buddha, exuding a sense of serenity and harmony. The vibrant and multi-colored design effortlessly complements any interior, enhancing the overall ambiance of your home or office.

Constructed from high-quality MDF material, this key holder ensures durability and longevity, serving as a reliable companion for years to come. Its rectangular shape and dimensions of 9 inches wide by 5 inches high provide ample space to hold all your keys in one convenient location.

With seven hooks, this keychain holder offers abundant storage capacity, allowing you to keep your keys organized and easily accessible. No more wasted time searching for misplaced keys; now you can grab them effortlessly on your way out the door.

Not only does this key holder keep your keys in order, but it also adds a touch of elegance to your surroundings. Its modern style effortlessly complements a variety of interior designs, making it a versatile and attractive addition to any room.

Experience the convenience, style, and tranquility of the Modern Printed Sitting Gautam Buddha Wooden Key Holder by Classy Artz. Transform your space into a serene oasis while ensuring your keys are always within reach.

Don't miss out on the opportunity to enhance your decor and streamline your daily routine. Order your own Modern Printed Sitting Gautam Buddha Wooden Key Holder today and elevate your home and office organization to a whole new level of sophistication and serenity.
At Classy Artz, we offer a hassle-free shipping policy to ensure your satisfaction. Our ready-made products will be shipped within 2-4 days, allowing you to enjoy your purchase in no time. We understand the importance of prompt delivery, and that's why we strive to get your order to you as quickly as possible. What's more, we are proud to offer free shipping on all our products, making your shopping experience even more enjoyable. Shop with confidence at Classy Artz and let us take care of the rest.